This article will analyze the PYR coin according to www.coinmarketcap.com data. First, we will discuss the PYR coin and its projects and make technical and graphic analyses. The analysis we will do in the weekly period will help the investors to take risks and manage their portfolios.
What is PYR Coin?
PYR Coin or Vulcan Forged PYR, is a cryptocurrency that operates on the VulcanVerse blockchain platform. It serves as the primary means of exchange within the ecosystem and can be used for in-game purchases, trading with other users, staking, and governance.
VulcanVerse is an immersive virtual world built on blockchain technology where players can explore fantasy landscapes, mine resources, build structures and engage in battles. The platform aims to create a decentralized gaming experience where players have ownership over their virtual assets like weapons and land while earning cryptocurrencies by participating actively in gameplay.
The PYR token has multiple use cases within the VulcanVerse ecosystem; it is used to purchase items from merchants or other players and stake tokens for rewards through mining activities such as resource gathering or combat encounters while also providing voting power during community governance discussions.
Overall, PYR coin allows gamers to participate in a decentralized economy where they can earn real-world value from their time playing games by rewarding them with this digital asset.
What are the projects of PYR?
VulcanVerse has several projects in development aimed at expanding its platform's capabilities and improving the user experience. Here are some notable ones:
Battle System: VulcanVerse is working on a new battle system that will allow players to engage in combat with each other, earn rewards, and stake their PYR tokens for additional incentives.
Land Expansion: The team behind VulcanVerse is developing new landscapes and territories within the virtual world to expand gameplay further.
Marketplace Optimization: They aim to optimize the marketplace with better search filters and more extensive lists of items available for purchase/sale while also providing a more straightforward interface for users
Integration with Other Blockchains: Vulcan Forge aims to integrate PYR coins into other blockchain platforms like Ethereum or Binance Smart Chain, enabling cross-chain transactions between different cryptocurrencies.
PYR Rewards Program Launch: The recently launched PYR rewards program incentivizes token holders by offering staking rewards through mining activities such as resource gathering or combat encounters while financially benefiting users who hold the coin.
These initiatives aim to create a robust ecosystem around the VulcanForge platform that allows gamers worldwide to enjoy an immersive gaming experience built on decentralized technology.
Factors Influencing PYR Price
Like any other cryptocurrency, the price of PYR Coin is influenced by various factors. Here are some significant factors that can affect its price:
Market Demand: The demand for VulcanVerse's services from buyers and sellers on cryptocurrency exchanges plays a crucial role in determining its market value.
Adoption Rate: The adoption rate of VulcanVerse's platform by gamers worldwide can also impact its price positively or negatively.
Competition: Competition from other blockchain-based gaming platforms offering similar services could also influence VulcanVerse's market position and therefore affect the value of the PYR coin.
Overall Market Sentiment: Like all cryptocurrencies, PYR coin's value is subject to prevailing market sentiment towards cryptocurrency as an asset class; this means that general trends within the crypto industry – such as bull runs or bear markets – can shape how investors perceive individual coins' values too.
Tokenomics: Any changes to the tokenomics of PYR coin, such as supply adjustments through burning tokens or increasing utility through staking incentives, can significantly affect its value
VulcanForge Development Progression: Investors monitor development progress closely and will often adjust their opinion based on news regarding partnerships with big gaming companies or significant updates to gameplay features
These are just some examples of factors that could influence the price of PYR Coin; however, it is essential to note that many variables come into play at any given time, simultaneously impacting prices positively and negatively.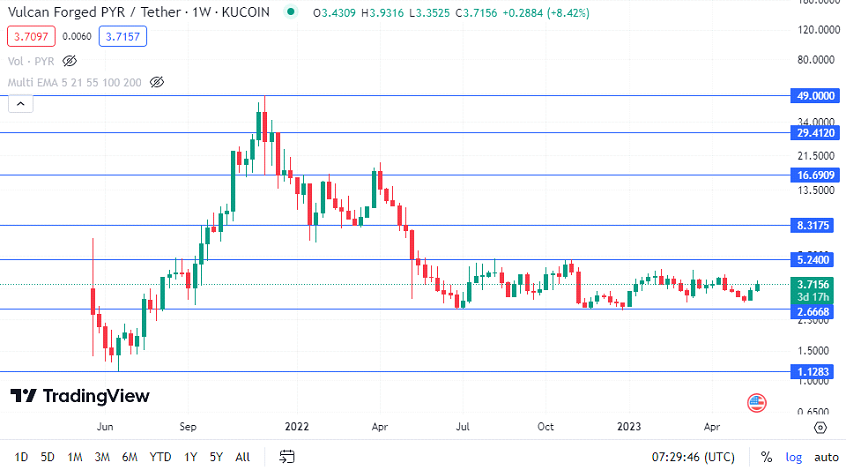 PYR COİN TECHNICAL ANALYSIS
After seeing its historical high of $ 49.00 in November 2021, PYR dropped 95% by the end of 2022, down to $ 2.66. Although it went up to $ 4.55 with the purchases in the market in March 2023, it is currently trading at $ 3.71. According to www.coinmarketcap.com data, PYR, which has a size of $100,663,551, has had a volume of $5,022,798 in the last twenty-four hours.
PYR Chart Analysis
From November 2021 to the end of 2022, the PYR coin fell 95% from $49.00 to $2.66. The weekly chart shows that the PYR coin has consolidated between $2.66 and $5.24 for the past year. For the PYR, currently trading at $3.71, the weekly support zone is $2.66, while the resistance zone is $5.24.
This article does not certain investment advice or recommendations. Every investment and trading move involves risk, and readers should conduct their research when deciding. This article does not include investment advice or suggestions. Every investment and trading move involves risk, and readers should perform their analysis when determining.
It may get your attention:
Cube3: France's Premier Web3 Incubator and Accelerator
RON Coin Weekly Analysis And Price Prediction