This article will analyze the STRAX coin according to www.coinmarketcap.com data. First, we will discuss the STRAX coin and its projects and make technical and graphic analyses. The analysis we will do in the weekly period will help the investors to take risks and manage their portfolios.
What is STRAX Coin?
Stratis (STRAX) is a cryptocurrency that operates on the Stratis blockchain platform, which aims to provide enterprise-grade solutions for businesses looking to develop and deploy blockchain-based applications.
The Stratis platform offers a range of features and tools to make it easier for developers to create custom blockchain solutions, including support for smart contracts, sidechains, and custom tokens. The STRAX coin serves as the native currency of the Stratis network and is used to pay transaction fees on the platform.
In addition to providing development tools and infrastructure for enterprise use cases, Stratis offers various products for individual users. These include wallets for storing STRAX coins as well as other cryptocurrencies like Bitcoin (BTC), Ethereum (ETH), and Litecoin (LTC). Users can also participate in staking their STRAX coins to earn rewards while helping secure the network.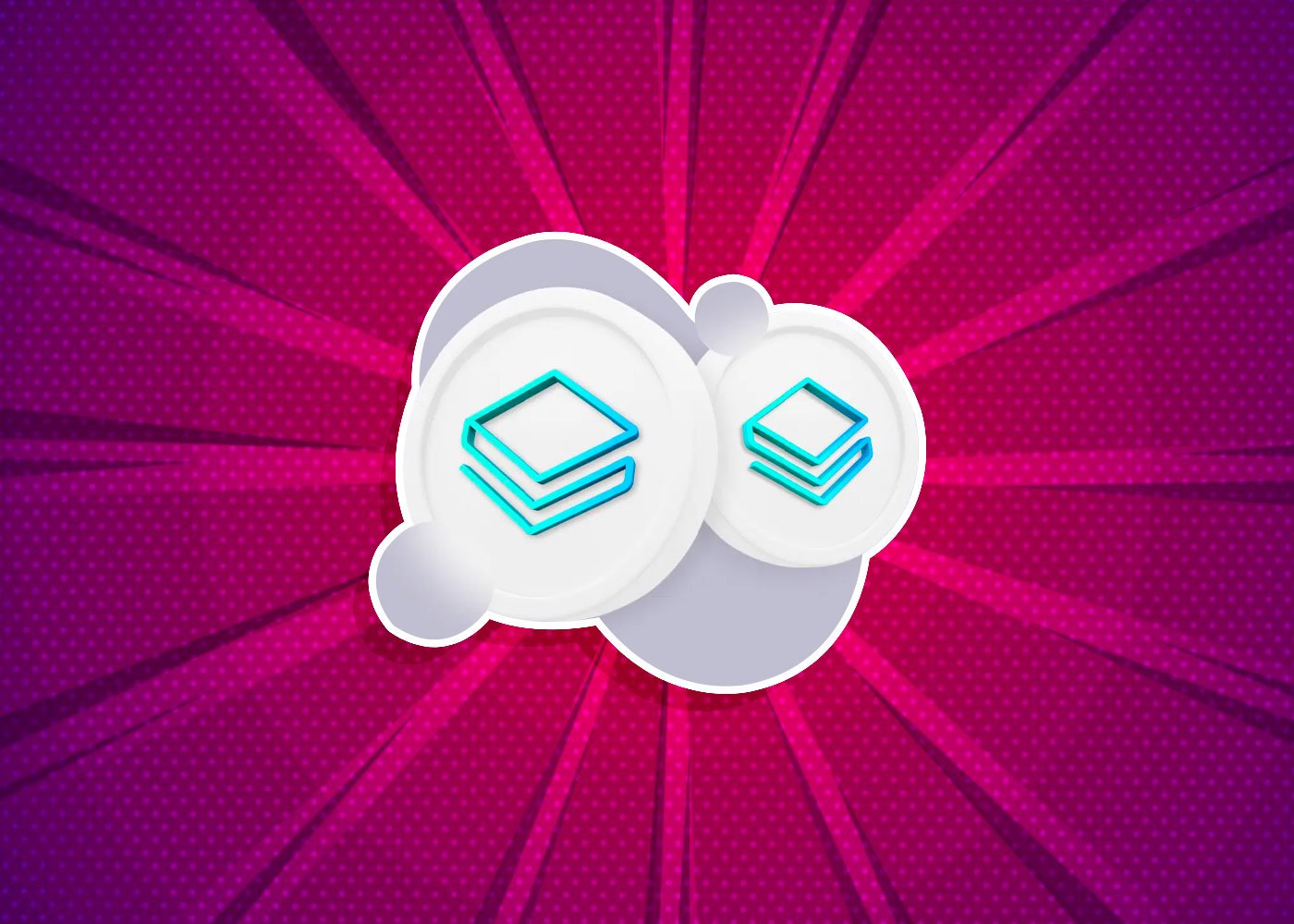 What are the projects of STRAX?
Stratis (STRAX) is a blockchain platform offering several projects and initiatives aimed at enterprise users and individual cryptocurrency enthusiasts. Some of the key Stratis projects include:
Smart Contracts: The Stratis platform supports self-executing agreements between parties that can help automate various business processes.
Sidechains: With sidechains, developers can create custom blockchain networks that run parallel to the main Stratis chain, enabling greater flexibility for building decentralized applications.
Custom Tokens: Using the Stratis ICO Platform, businesses can launch their custom tokens on top of the STRAX network, allowing them to raise funds or incentivize users with unique digital assets.
Breeze Wallet: The Breeze Wallet is a privacy-focused wallet for storing and sending cryptocurrencies like Bitcoin and STRAX. It uses advanced encryption techniques to protect user data and keep transactions anonymous.
Masternodes: STRAX coin holders can operate masternodes to earn rewards while helping secure the network by staking their coins as collateral.
Factors Influencing STRAX Price
Like any cryptocurrency, the price of Stratis (STRAX) is influenced by various factors. Some of the critical factors that can affect the price of STRAX include:
Market Demand: The supply and demand for STRAX on cryptocurrency exchanges is one of the primary drivers of its price. If there is high demand for STRAX but a limited supply available for trading, this can increase its price.
Adoption and Use Cases: As more businesses and developers adopt Stratis' blockchain platform and use it to build decentralized applications or launch custom tokens, this could lead to increased demand for STRAX to access these services.
Network Security: The security and integrity of the Stratis network are essential in maintaining investor confidence in the project, so any issues with network performance or security could negatively impact its price.
Competition: Many other blockchain platforms are competing with Stratis in terms of offering enterprise-grade solutions, so if another platform gains significant traction or market share over time, this could put downward pressure on STRAX's price.
Regulatory Landscape: Changes in regulations related to cryptocurrencies or blockchain technology can also impact STRAX's value due to changes in investor sentiment toward digital assets.
While these are some key factors that may influence the value of Stratis (STRAX), it's worth noting that cryptocurrency prices can be highly volatile and subject to sudden fluctuations based on a wide range of market dynamics beyond those listed here.
STRAX COİN TECHNICAL ANALYSIS
After seeing its historical high of $ 4.550 in May 2021, STRAX dropped 92% by the end of 2022, down to $ 0.360. Although it went up to $ 0.777 with the purchases in the market in  March 2023, it is currently trading at $ 0.398. According to www.coinmarketcap.com data, STRAX, which has a size of $59,879,433, has had a volume of $2,230,974 in the last twenty-four hours.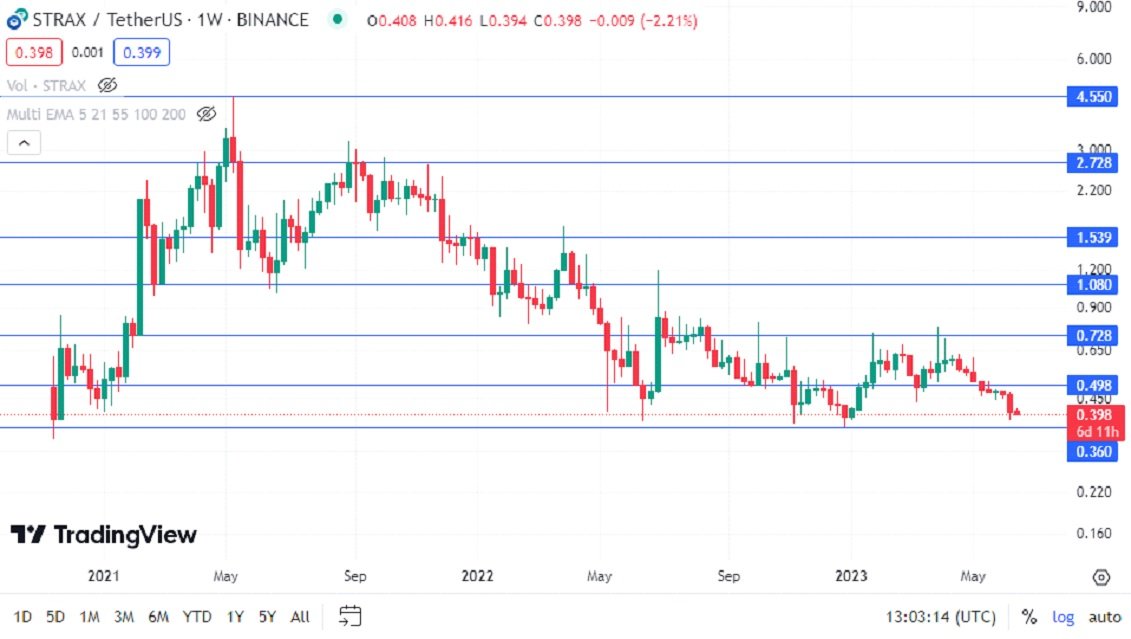 STRAX Chart Analysis
STRAX coin fell 92% from $4,550 to $0.360 between May 2021 and January 2023. Although it rose to $ 0.777 with the buy-side movement in the market at the beginning of 2023, it went down again and is currently trading at $ 0.398. The STRAX coin, whose weekly chart we examine, has been consolidated between $0.360 and $0.728 for almost a year. STRAX, currently falling towards the support of $ 0.360, the lowest value of 202, can make a new bottom if it closes weekly under this zone. In this sense, $0.360 is the most significant support point. If the price moves upwards, $0.498 is the first resistance point.
This article does not certain investment advice or recommendations. Every investment and trading move involves risk, and readers should conduct their research when deciding. This article does not include investment advice or suggestions. Every investment and trading move involves risk, and readers should perform their analysis when determining.
It may get your attention:
Cameron Winklevoss Net Worth: From Facebook Settlement to Bitcoin Fortunes
Matrixport Review 2023: Should You Lend Your Crypto?
DCA vs Mining: Choosing the Right Investment Strategy