This article will analyze the YFI coin according to www.coinmarketcap.com data. First, we will discuss the YFI coin and its projects and make technical and graphic analyses. The analysis we will do in the weekly period will help the investors to take risks and manage their portfolios.
What is YFI Coin?
YFI is the native cryptocurrency of the Yearn Finance platform, which is a decentralized finance (DeFi) protocol built on the Ethereum blockchain. Yearn Finance aims to give users an easy way to optimize their yield farming strategies by automatically moving their funds between different DeFi protocols based on which one offers the highest returns.
What are the projects of YFI?
One of YFI coin's main projects is Yearn Finance, which allows users to deposit their funds and earn high returns on their investments through yield farming. Another project is yVaults, which are automated yield farming strategies that users can invest in to earn passive income.
Factors Influencing YFI Price
The price of the YFI coin is influenced by several factors, including:
Market demand: The supply and demand of YFI coins on cryptocurrency exchanges can impact their cost. If there is high demand and low supply, the price will increase.
Adoption and usage: As more users start using Yearn Finance and its associated products, the demand for YFI coins may increase, driving its price.
Competition: The DeFi space is highly competitive, and other similar projects may attract users away from Yearn Finance, potentially affecting the demand and price of YFI.
Regulatory changes: Changes in regulations related to cryptocurrencies and DeFi can also impact the price of YFI coins.
Investor sentiment: The overall sentiment of investors towards cryptocurrencies and DeFi can also affect the price of YFI and other cryptocurrencies.
Please note that the cryptocurrency market is highly volatile, and the factors influencing the price of any cryptocurrency can change over time. It's always recommended to conduct thorough research and consult with financial professionals before making any investment decisions.
YFI COİN TECHNICAL ANALYSIS
After seeing its historical high of $95k in May 2021, YFI has dropped 96% by June 2022, down to $4011. YFI has exceeded 10k dollars twice since July 2022 and is currently trading at 7850 dollars. According to www.coinmarketcap.com data, YFI, which has a size of $259,087,667, has had a volume of $14,435,416 in the last twenty-four hours.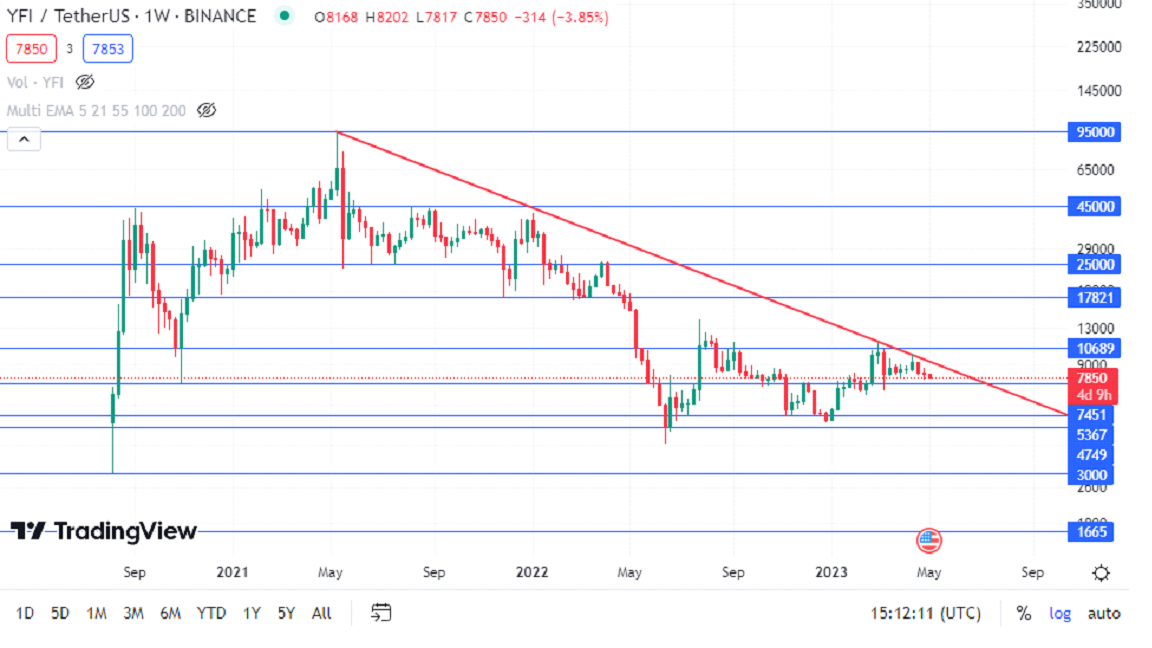 YFI Chart Analysis
When we examine the YFI chart, which fell from $95k to $4011 with a 96% loss, it is seen that it rose above 10k dollars twice in 2022 but could not hold on to these levels. YFI, currently trading at $ 7850, could not break the falling trend in 2021 and is still in a downtrend. Our support and resistance points for the YFI coin this week; $7451 is the horizontal support zone, while the downtrend (red line) at $9250 can be followed as a resistance point.
This article does not contain investment advice or recommendations. Every investment and trading move involves risk, and readers should conduct their research when deciding. This article does not include investment advice or suggestions. Every investment and trading move involves risk, and readers should perform their analysis when determining.
It may get your attention: