This article will analyze the XEM coin according to coinmarketcap data. First, we will discuss the XEM coin and its projects and make technical and graphic analyses. The analysis we will do in the weekly period will help the investors to take risks and manage their portfolios.
What is XEM Coin?
XEM (New Economy Movement) is a cryptocurrency that operates on its NEM blockchain. It was first introduced in 2015 and aimed to provide a faster, more secure, and more efficient platform for decentralized applications and peer-to-peer transactions.
What are the projects of XEM?
One of the main projects of XEM is developing the Catapult blockchain engine, designed to improve the speed and scalability of the NEM blockchain. This technology allows for faster and more efficient transactions and the ability to support a broader range of decentralized applications.
Another important project for XEM is the development of its decentralized exchange, called NEMspay. This exchange will allow for the trading of XEM and other cryptocurrencies without a centralized exchange, providing more security and privacy for users.
Factors Influencing XEM Price
There are several factors that can influence the price of XEM coin, including:
Overall cryptocurrency market sentiment:Like all cryptocurrencies, the price of XEM can be influenced by broader market trends and sentiment.
Adoption and usage of the NEM blockchain:The more people and businesses that use the NEM blockchain and its associated technologies, the more demand there will be for XEM.
Competition from other cryptocurrencies:XEM faces competition from other blockchain projects that offer similar features and benefits.
Regulatory environment:Changes in regulations or government policies regarding cryptocurrencies can impact the price of XEM and other cryptocurrencies.
Technological developments:The success of projects like Catapult and NEMspay can positively impact the price of XEM as they increase the usefulness and value of the NEM blockchain.
XEM COİN TECHNICAL ANALYSIS
After hitting its historic high of $0.8645 in March 2021, XEM has dropped nearly 97% in two years, down to $0.0283. XEM is currently trading at $0.0418. According to coinmarketcap data, XEM, which has a size of $375,978,256, has had a volume of $11,040,096 in the last twenty-four hours.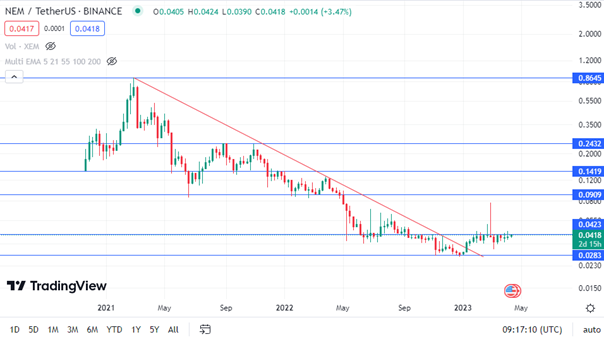 XEM Chart Analysis
After seeing the high value of $ 0.8645 in March 2021, XEM fell to $ 0.0283 after being in a downtrend for almost two years and losing 97% value. XEM, which broke the rising trend at the beginning of 2023 and started to rise, reached 0.0423 but could not maintain the rise until 0.08. If you start testing on XEC 0.0423, trading very close to the resistant areas for weeks, you will see a rapid rise. 0.0423 horizontal blocking would be $0.0909 above the initial target. Selling pressure in the market may cause XEM to recover toward $0.0283.
This article does not contain investment advice or recommendations. Every investment and trading move involves risk, and readers should conduct their research when deciding. This article does not include investment advice or suggestions. Every investment and trading move involves risk, and readers should perform their analysis when determining.
It may get your attention: