This article will analyze the WOO token according to coinmarketcap data. First, we will discuss the WOO token and its projects and make technical and graphic analyses. The analysis we will do in the weekly period will help the investors to take risks and manage their portfolios.
What is WOO Token?
WOO is a cryptocurrency designed to be the native token of the Wootrade network, a decentralized trading platform for digital assets. Wootrade is focused on providing its users with high liquidity, low fees, and a wide range of trading pairs.
The WOO token is used within the Wootrade ecosystem for various purposes, such as paying transaction fees, staking for network participation, and incentivizing market makers to provide liquidity to the platform.
What are the projects of WOO?
As for projects related to WOO coin, the Wootrade team has several development initiatives that aim to improve the platform's functionality and expand its user base. These include partnerships with other blockchain projects, developing new trading products and services, and expanding the platform's reach into new geographic regions.
Factors Influencing WOO Price
As for factors that can influence the price of WOO coins, there are several key drivers that investors and traders should be aware of. These include:
Adoption and usage: The more people that use the Wootrade platform and transact with WOO coins, the higher the demand for the token, which can lead to price appreciation.
Market sentiment: Like all cryptocurrencies, the price of WOO coins is influenced by market sentiment, which can be affected by various factors such as news events, regulatory developments, and investor sentiment.
Competition: Wootrade operates in a highly competitive industry, and the platform's success relative to its competitors can impact the demand for WOO coins.
Technical developments: The Wootrade team constantly works to improve the platform and add new features. Technological developments such as network upgrades and new product releases can influence the price of WOO coins.
Token supply and demand: The total supply of WOO coins is fixed, and changes in the demand for the token can impact its price. Additionally, the Wootrade team has implemented a token-burning mechanism that reduces the total supply of WOO over time, which can positively impact the token's price.
WOO TOKEN TECHNICAL ANALYSIS
After hitting its historic high of $0.8790 in February 2022, the WOO fell by about 88% to $0.1014 by June 2022. WOO is currently trading at $0.2465. According to coinmarketcap data, WOO, which has a size of $417,725,809, has had a volume of $48,870,655 in the last twenty-four hours.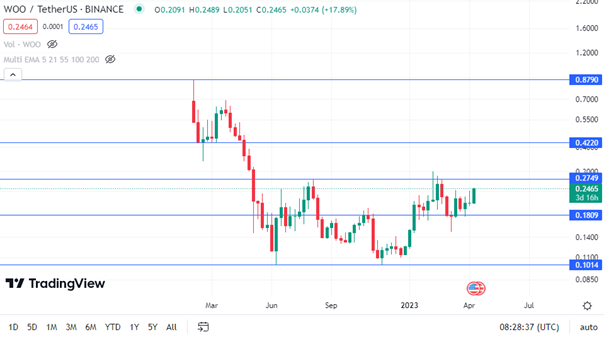 WOO Chart Analysis
WOO Token, which entered a downtrend in February 2022, declined by 88% from $0.8790 to $0.1014 by June. When we examine the WOO chart, we see that it has consolidated between $0.1014 and $0.2749 since June 2022. This consolidation shows that a horizontal trend has replaced the downtrend. As of the beginning of 2023, it trades between $0.1809 and $0.2749. If it closes below $0.1809 weekly, we could see a quick pullback to $0.1014. In the weekly close above $0.2749, there can be a rapid rise to $0.4220 again.
This article does not contain investment advice or recommendations. Every investment and trading move involves risk, and readers should conduct their research when deciding. This article does not include investment advice or suggestions. Every investment and trading move involves risk, and readers should perform their analysis when determining.
It may get your attention: