This article will analyze the WAXP coin according to www.coinmarketcap.com data. First, we will discuss the WAXP coin and its projects and make technical and graphic analyses. The analysis we will do in the weekly period will help the investors to take risks and manage their portfolios.
What is WAXP Coin?
WAXP, also known as WAX or WAX Token, is the native cryptocurrency of the Worldwide Asset eXchange (WAX) blockchain. WAX is a decentralized platform designed for the virtual trading and exchange of digital assets, including in-game items and collectibles.
What are the projects of WAXP?
The primary projects associated with the WAXP coin are:
NFT Marketplace: WAXP is the primary currency for buying, selling, and trading non-fungible tokens (NFTs) on the WAX platform. The WAX Marketplace is one of the most popular and widely used marketplaces for digital collectibles and virtual assets.
Virtual Goods and Gaming: WAX aims to facilitate the seamless exchange of virtual goods within various online gaming ecosystems. It provides a platform for game developers to tokenize and trade in-game items, enhancing interoperability and fostering a secondary market for these assets.
Tokenization of Physical Assets: WAX plans to expand its offerings beyond digital assets and enter the realm of physical assets. This involves tokenizing real-world assets like sports memorabilia, trading cards, and more, enabling users to digitally buy, sell, and trade these assets.
Factors Influencing WAXP Price
Several factors can influence the price of WAXP coin, including:
Market Demand: The cost of WAXP is influenced by the overall demand for digital assets and NFTs, as the WAX blockchain provides a marketplace for these items. Increased demand for NFTs and virtual goods can drive up the value of WAXP.
Adoption and Partnerships: WAXP's price can be affected by the adoption of the WAX blockchain by gaming companies, artists, and collectors. Partnerships with notable brands and influencers can also impact the perceived value and utility of WAXP.
Market Sentiment: Cryptocurrency markets are influenced by general market sentiment and investor confidence. Factors such as overall market conditions, regulatory developments, and global economic trends can impact the price of WAXP.
Token Supply and Staking: The total supply of WAXP and the amount being staked or locked up in smart contracts can affect its price. Increased staking can reduce the circulating supply and increase the scarcity and value of WAXP.
Please note that the cryptocurrency market is highly volatile, and the factors influencing the price of any cryptocurrency can change over time. It's always recommended to conduct thorough research and consult with financial professionals before making any investment decisions.
WAXP COİN TECHNICAL ANALYSIS
After seeing its historical high of $ 0.9835 in April 2021, WAXP fell by 98% to $ 0.0026. WAXP, which rose to $0.1063 weekly in April 2023, is currently trading at $0.0640. According to www.coinmarketcap.com data, WAXP, which has a size of $176,358,891, has had a volume of $2,825,097 in the last twenty-four hours.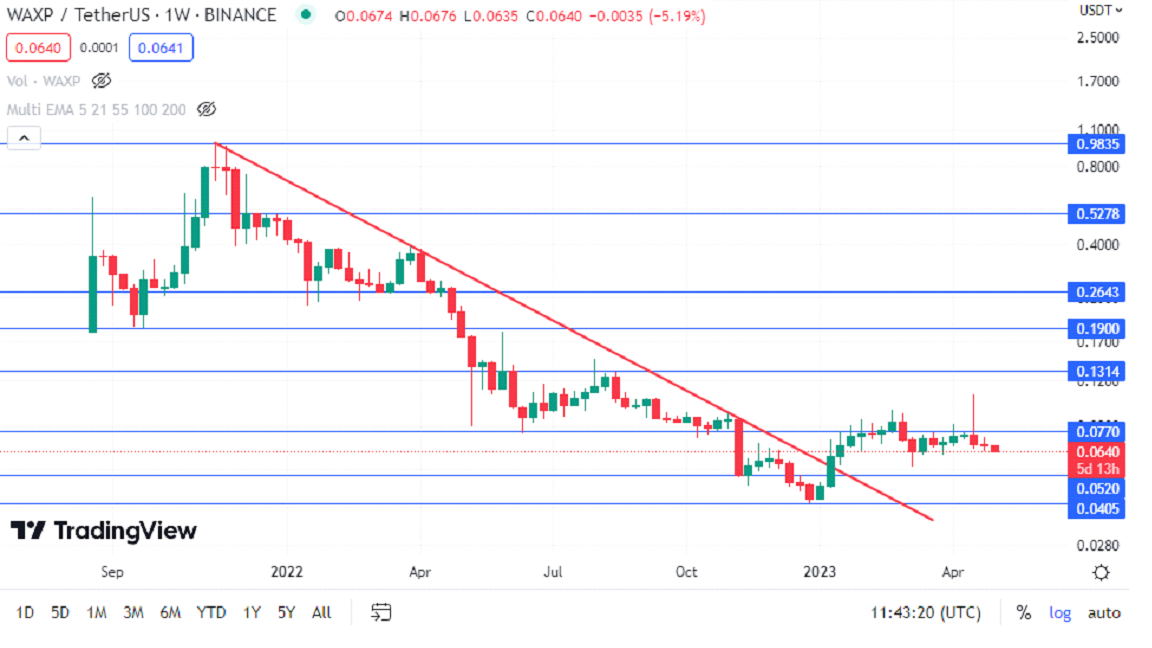 WAXP Chart Analysis
After seeing its historical high of $ 0.1190 in November 2021, it fell 96% to $ 0.0405 by the end of 2022. WAXP, which rose to 0.1063 with the purchases in the market in April 2023, is currently traded at $ 0.0640. WAXP, whose weekly chart is analyzed, has broken the downtrend. The weekly support and resistance points for WAXP, which I expect to be traded in a horizontal trend to start an uptrend, are as follows; $0.0520 is our weekly support zone, while $0.0770 can be observed as our weekly resistance zone.
This article does not contain investment advice or recommendations. Every investment and trading move involves risk, and readers should conduct their research when deciding. This article does not include investment advice or suggestions. Every investment and trading move involves risk, and readers should perform their analysis when determining.
It may get your attention:
Untangling the Truth: Do Hasidic Jews Pay Taxes?
2023 Income Inequality: What Percentage of the Population Makes Over $300K?
Untangling the Truth: Do Hasidic Jews Pay Taxes?