This article will analyze the TWT token according to coinmarketcap data. First, we will discuss the TWT token and its projects and make technical and graphic analyses. The analysis we will do in the weekly period will help the investors to take risks and manage their portfolios.
What is TWT Token?
TWT (Trust Wallet Token) is a cryptocurrency that serves as the native utility token of the Trust Wallet. This mobile cryptocurrency wallet allows users to store, manage, and trade various cryptocurrencies. The TWT token is built on the Binance Smart Chain (BSC) and is used to power multiple features of the Trust Wallet, including staking, governance, and discounts on trading fees.
What are the projects of TWT?
As for the projects of TWT tokens, one notable use case is staking. Holders of TWT can stake their tokens and earn a percentage of the block rewards as a form of passive income. In addition, TWT token holders can participate in the governance of the Trust Wallet ecosystem by voting on proposals and decisions related to the wallet's development.
Factors Influencing TWT Price
There are several factors that can influence the price of TWT tokens. These include:
Overall market conditions:Like most cryptocurrencies, TWT's price can be affected by the broader market conditions of the cryptocurrency industry.
Adoption of Trust Wallet: As more people adopt Trust Wallet and use it for their cryptocurrency transactions, there may be increased demand for TWT tokens, which could drive up its price.
Development progress: The progress of Trust Wallet's development, as well as any new features or partnerships, can impact the perceived value and potential of TWT tokens.
Competitors: The emergence of new competitors in the mobile cryptocurrency wallet space may threaten Trust Wallet's market share, which could negatively affect the price of TWT tokens.
Regulatory developments: Changes in regulations or legal actions related to cryptocurrencies could impact the demand for TWT tokens and other cryptocurrencies, affecting their prices.
TWT TOKEN TECHNICAL ANALYSIS
There has been a tremendous ascending channel work in TWT, which has been making highs and lows in cycles since January 2021. TWT, which saw $2.72 as the historical peak, later entered a downtrend but never broke its ascending channel. It is possible to say that TWT, which moves within the ascending channel, can go much higher as the direction of the market changes. TWT is currently trading at $1.3184. According to tokenmarketcap data, TWT, which has a size of $546,831,922, has had a volume of $133,360,432 in the last twenty-four hours.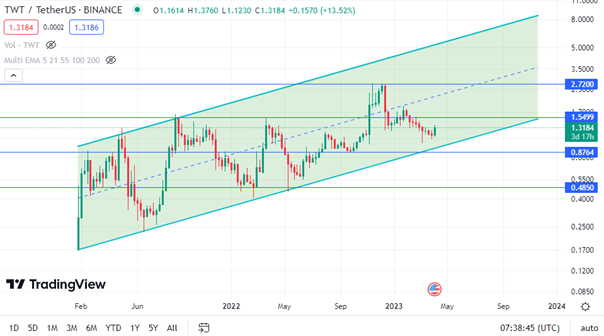 TWT Chart Analysis
Continuing its movement within the rising channel it created, TWT can see severe rises with the increase in purchases in the market. With the increase in TWT purchases, which have never left the channel so far, the rising peak value of $ 8 this year can be tested. In case of possible pullbacks, $0.92, the ascending channel line, and $0.8764, the horizontal support zone, are our initial support points.
This article does not contain investment advice or recommendations. Every investment and trading move involves risk, and readers should conduct their research when deciding. This article does not include investment advice or suggestions. Every investment and trading move involves risk, and readers should perform their analysis when determining.
It may get your attention: