This article will analyze the TRAC coin according to www.coinmarketcap.com data. First, we will discuss the TRAC coin and its projects and make technical and graphic analyses. The analysis we will do in the weekly period will help the investors to take risks and manage their portfolios.
What is TRAC Coin?
TRAC (Trace) is a cryptocurrency that powers the OriginTrail blockchain protocol. The OriginTrail network aims to provide a decentralized platform for seamless data sharing between different supply chain stakeholders, including manufacturers, suppliers, distributors, and retailers.
The TRAC token serves as an internal currency within the OriginTrail ecosystem and facilitates transactions between parties on the network. It also enables users to access certain platform features, such as data storage or validation of information through staking.
One of the key benefits of using TRAC within the OriginTrail network is its ability to enhance transparency and improve trust among supply chain participants by creating a tamper-proof record of all relevant data throughout each stage in a product's journey from origin to destination.
TRAC is essential in facilitating secure and efficient communication across complex global supply chains with multiple intermediaries involved.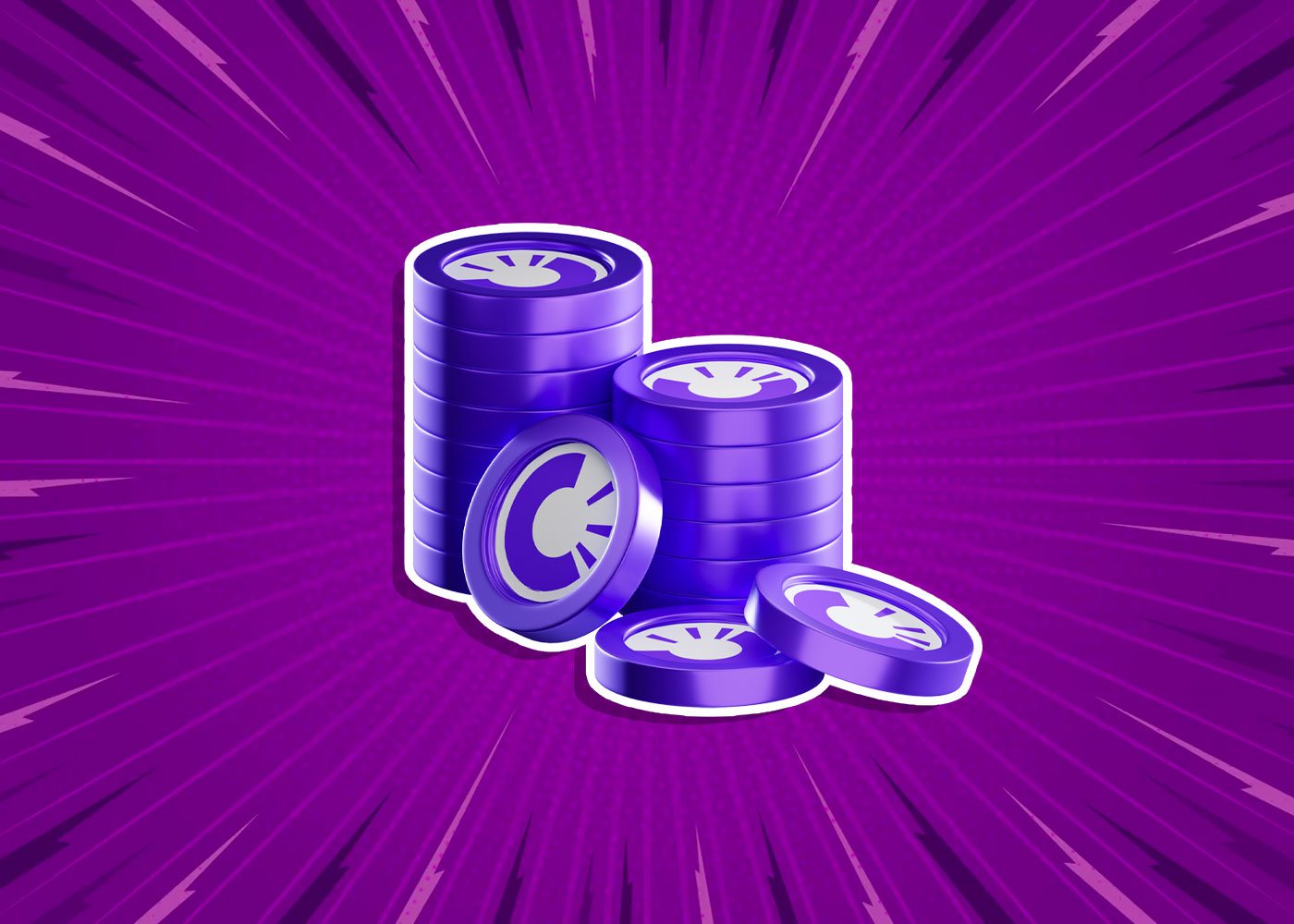 What are the projects of TRAC?
The OriginTrail network has several projects that aim to improve supply chain management and increase transparency in the industry. Some of these projects include:
Supply Chain Traceability: The OriginTrail network provides a platform for tracking products throughout their entire supply chain journey, from raw materials to finished goods.
Data Management: The OriginTrail network offers a decentralized data storage solution that ensures secure and reliable data management across multiple parties within a supply chain ecosystem.
Interoperability: With its open-source architecture, the OriginTrail network can seamlessly integrate with other blockchain networks or legacy systems, enabling cross-chain interoperability between stakeholders involved in the same product's lifecycle.       
Compliance & Quality Control: By leveraging blockchain technology, businesses can ensure compliance with regulatory requirements and quality control standards for products moving through complex global supply chains.
Smart Contracts: With intelligent contracts on the blockchain, businesses can automate many time-consuming processes such as order fulfillment, payment processing, and inventory management while ensuring immutable records at every stage.
TRAC is essential in facilitating efficient communication and collaboration among participants involved in complex global supply chains by providing them greater visibility into critical aspects like provenance information, certifications or compliance documentation, etc.
Factors Influencing TRAC Price
Like any other cryptocurrency, the price of TRAC (Trace) Coin can be influenced by various factors. Some of these factors include:
Market Demand: The demand for TRAC Coin is a critical factor influencing its price on exchanges. If there is high demand for the coin and limited supply available, its price will likely increase.
Adoption Rate: OriginTrail's blockchain technology and services' adoption rate can significantly influence TRAC's value as it represents a key component in transacting on their network.
Competition: Many other cryptocurrencies are competing with TRAC Coin for investor attention within Supply Chain Industry verticals.   
Regulatory Changes: Any changes to regulations regarding cryptocurrencies or blockchain technology could impact the perception and, thus, the valuation of coins like TRAC.
Technological Advancements & Partnerships: As with all innovative technologies, such as the Blockchain-based Supply Chain management system offered by OriginTrail, new features, advancements, or partnerships could positively impact both usage rates and token valuations over time.
These factors can affect not only the price but also overall interest in investing in this specific cryptocurrency project like trace coin, making it an attractive option to stay up-to-date on market trends if you are considering investment opportunities involving this digital asset class.
TRAC COİN TECHNICAL ANALYSIS
After seeing its historical high of $ 3.50 in November 2021, TRAC dropped 96% by November 2022, down to $ 0.1475. Although it went up to $ 0.4900 with the purchases in the market in April 2023, it is currently trading at $ 0.2840. According to www.coinmarketcap.com data, TRAC, which has a size of $113,023,681, has had a volume of $987,131 in the last twenty-four hours.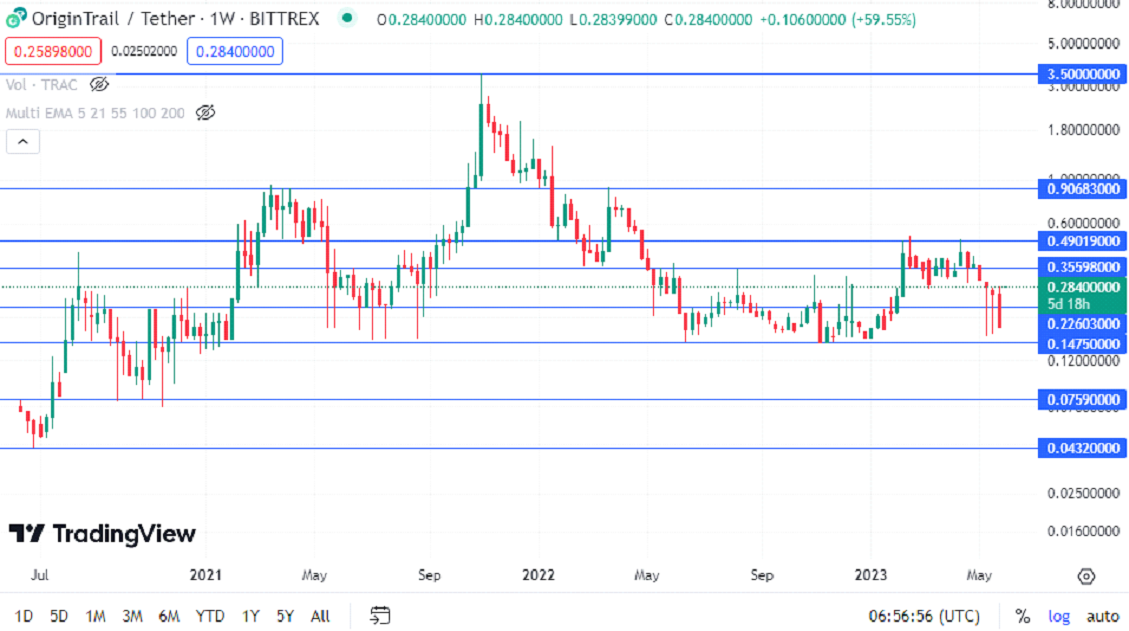 TRAC Chart Analysis
TRAC coin fell 96% from $3.50 to $0.1475 from November 2021 to November 2022. Although it went up to $ 0.4900 with the purchases in the market in April 2023, it could not maintain this rise and is currently traded at $ 0.2840. Examining the weekly chart, we can say that the TRAC coin is moving downward, with the support level at $0.2260 and the resistance level at $0.3559 for this week.
This article does not certain investment advice or recommendations. Every investment and trading move involves risk, and readers should conduct their research when deciding. This article does not include investment advice or suggestions. Every investment and trading move involves risk, and readers should perform their analysis when determining.
How to Withdraw Money from FXTM in 2023: Step-by-Step Guide
Forex.com vs. Moomoo: Which Trading Platform is Right for You?