This article will cover the special features of the SKU coin and provide a technical analysis of the currency on CoinMarketCap.com . Information will be provided on how and where you can buy SKU coins. our technical analysis will be based on weekly candlestick charts . Investors will be able to use our weekly assessments, where they will have the opportunity to manage their portfolios according to opportunities and risks .
What is SKU Coin?
       Sakura, a substrate-based parachain, has been developed to facilitate the cross-chain DeFi ecosystem within the Kusama network . The team behind Clover Finance envisions Sakura as an innovative sibling network , complementing Clover and serving the communities of both platforms concurrently.
Sakura (SKU) Token serves as the native cryptocurrency of the Sakura platform, specifically designed for cross-chain DeFi transactions . This token is utilized by investors as well as decentralized application developers . With active promotion by the Sakura community on various social media platforms, SKU Token offers staking and lending functionalities , enabling users to engage in these activities.
SKU coin advantages
The advantages of Sakura (SKU) Token include :
1-Generating passive income through staking activities,
2-Accruing interest income by providing SKU Token loans,
3-Accessing high-volume cryptocurrency exchanges for buying and selling purposes,
4-Joining the Sakura community as a developer and receiving SKU Token rewards for decentralized application development,
5-Conducting transfers And settlements with minimal transaction fees.
By utilizing SKU Token in transactions, users can avail themselves of all these benefits.
Sakura (SKU) Token disadvantages
The SKU Token is not applicable for use in the NFT sector or decentralized storage rental , And it is not tradable on the Binance exchange.
How to get SKU coin?
      Sakura is presently listed and available for trading on various cryptocurrency exchanges . Individuals interested in investing in the project are advised to create an account on one of the exchanges where Sakura is listed.The exchanges supporting Sakura trading include KuCoin, Huobi Global, Gate.io, and Hotcoin Global . To participate in the project's investment , users should open an account on any of these mentioned exchanges.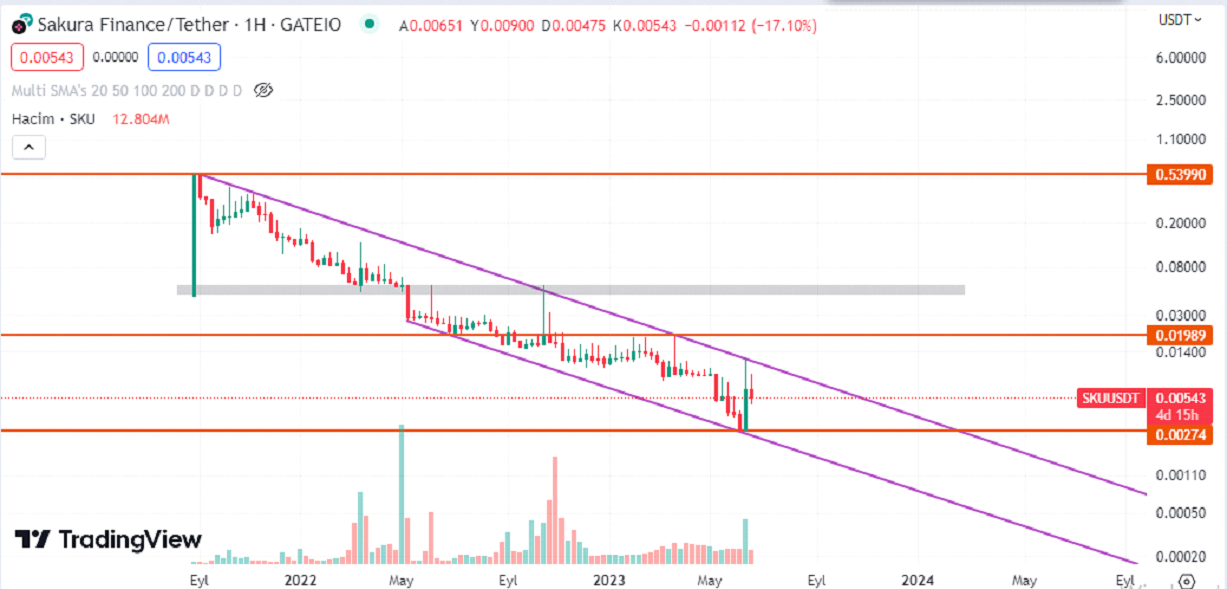 Sakura (SKU) Token
Technical Analysis
      Sakura coin has a circulating supply of 53.000.000 tokens, with a market cap of $6.899.963. Currently , the price of Sakura coin stands at $0.005. Since September 2021, Sakura coin has been experiencing a downtrend and has formed a descending channel visible in the weekly candlestick chart . Its highest level was reached in September 2021, at $0.53. In the previous week, the coin found support at $0.002 within the channel, while the channel's resistance was observed at $0.012. Notably, there has been a significant increase in trading volume. If the channel resistance is breached at $0.012, the initial resistance level to watch is $0.019, followed by a strong horizontal resistance at $0.05 .
       The following post does not provide any particular suggestions or investment advice . Prior to reaching a conclusion, readers should conduct their research, as every trading and investment decision carries inherent risks .
It may get your attention:
The Best Penny Stocks Under $1
Understanding Limit Orders in Crypto Exchanges: Controlling Your Trading with Precision