This article will analyze the MASK token according to coinmarketcap data. First, we will discuss the MASK token and its projects and make technical and graphic analyses. The analysis we will do in the weekly period will help the investors to take risks and manage their portfolios.
What is MASK Token?
MASK Network Token (MASK) is an Ethereum-based utility token that powers the MASK Network platform. MASK Network is a decentralized application (dApp) that enables users to send encrypted messages, make private transactions, and access decentralized finance (DeFi) protocols through social media platforms such as Twitter and Discord.
What are the projects of MASK?
The main projects of MASK Network include:
SocialPay: Allows users to send tokens to anyone on Twitter, Discord, and other social media platforms, even if the recipient doesn't have a cryptocurrency wallet.
Decentralized File Storage: This enables users to store and share files in a decentralized manner, ensuring privacy and security.
Decentralized Exchange: Allows users to trade cryptocurrencies in a decentralized manner without the need for an intermediary.
Factors Influencing MASK Price
Some factors that can influence the price of MASK Network Token include:
Adoption: The more people use the MASK Network platform and the token, the higher the demand for the token, which can drive its price.
Market Sentiment: Positive or negative news about the cryptocurrency market or the blockchain industry can affect the price of the MASK Network Token.
Competition: The emergence of competing platforms or technologies that offer similar services to MASK Network could negatively impact the token's price.
Tokenomics: The token's total supply, token distribution, and inflation rate can affect its price.
Regulatory Developments: Changes in laws and regulations surrounding cryptocurrency and blockchain could affect the adoption and usage of the MASK Network platform and token.
MASK TOKEN TECHNICAL ANALYSIS
After testing its historic high of $22.581 in November 2021, the MASK fell by 95% within a year, falling to $0.971. MASK, which rose to $ 7,373 with purchases from $ 0.971, is currently trading at $ 5,417. According to coinmarketcap data, MASK, which has a size of $401,972,295, has had a volume of $133,837,847 in the last twenty-four hours.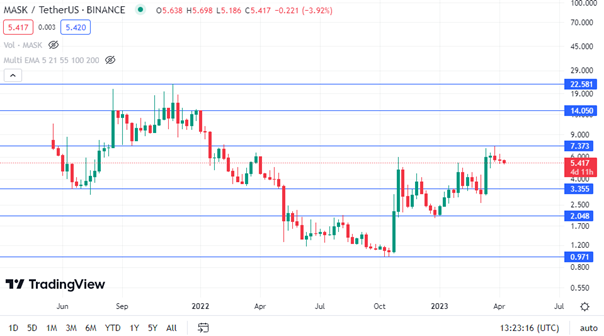 MASK Token Chart Analysis
Having lost 95% in 2022 and regressed to $ 0.971, MASK is currently trading at $ 5,417 despite continuing the upward trend it caught in October 2022 and exceeding $ 7. Looking at the chart of MASK Token, which generally continues its upward momentum, we see $ 3,355 as the weekly support point and $ 7,373 as the weekly resistance point.
This article does not contain investment advice or recommendations. Every investment and trading move involves risk, and readers should conduct their research when deciding. This article does not include investment advice or suggestions. Every investment and trading move involves risk, and readers should perform their analysis when determining.
It may get your attention: