This article will analyze the IOTA coin according to coinmarketcap data. First, we will discuss the IOTA coin and its projects and make a technical and graphic analysis. The analysis we will do in the weekly period will help the investors to take risks and manage their portfolios.
What is IOTA Coin?
OTA is a distributed ledger technology that aims to facilitate secure data and value transfer between machines on the Internet of Things (IoT). The IOTA project was created in 2015 and used a unique consensus mechanism called the Tangle, a directed acyclic graph (DAG) that allows for feeless transactions and scales indefinitely. IOTA's native cryptocurrency is called MIOTA.
What are the projects of IOTA?
Some of the projects associated with IOTA include:
IoT data marketplace: IOTA provides a platform for buying and selling data generated by IoT devices. This data can be used for various purposes, including research, analysis, and development of new products and services.
Supply chain management: IOTA can track goods moving through the supply chain from the manufacturer to the retailer. This helps to reduce fraud, counterfeiting, and other forms of supply chain disruption.
Decentralized identity: IOTA can create a decentralized identity system where users control their data and share it securely with others.
Smart city infrastructure: IOTA can create intelligent city infrastructure, including traffic management, waste management, and energy management.
Factors Influencing IOTA Price
The price of IOTA is influenced by a variety of factors, including:
Market demand: The cost of IOTA coin is primarily driven by market demand, which is controlled by factors such as investor sentiment, media coverage, and regulatory developments.
Network adoption: The more people and businesses that use the IOTA network, the more valuable the cryptocurrency becomes.
Technology developments: Advances in the underlying technology, such as improvements to the Tangle consensus mechanism, can also impact the price of IOTA.
Competitors: Other cryptocurrencies and distributed ledger technologies like Ethereum and Cardano can compete with IOTA for market share and investor attention.
Overall market conditions: The price of IOTA is also influenced by broader market trends, such as overall investor sentiment towards cryptocurrencies and global economic conditions.
IOTA COIN TECHNICAL ANALYSIS
After hitting its historic high of $2.6773 in April 2021, IOTA coin fell 94% to $0.1559 by December 2022. IOTA, which has increased in value since the beginning of 2023 and reached above $0.270, is currently traded at $0.2198. According to coinmarketcap data, MINA, which has a size of $610,752,630, has had a volume of $17,878,356 in the last twenty-four hours.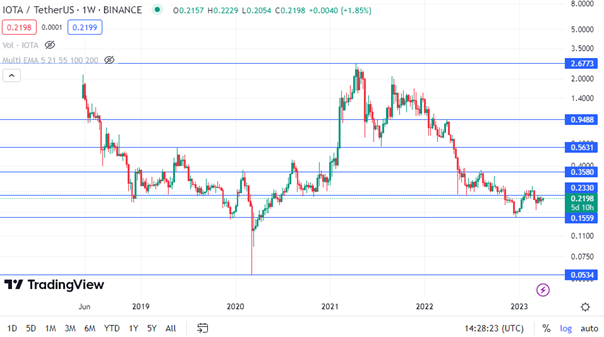 IOTA Chart Analysis
After hitting a peak of $2.6773 in April 2021, it almost breathlessly dropped 94% to $0.1559 by December 2022. When we examine the IOTA coin chart, it has been trading between $0.1559 and $0.2330 for the last few months. Weekly, $0.1559 is our most vital support, while $0.2330 is our first resistance. If a break is above $0.2330, the target will be $0.3580.
This article does not contain investment advice or recommendations. Every investment and trading move involves risk, and readers should conduct their research when deciding. This article does not include investment advice or suggestions. Every investment and trading move involves risk, and readers should perform their analysis when determining.
It may get your attention: