Binance Labs , the investment division of Binance, has recently made a $10 million investment in the Radiant Capital Project . This significant investment comes from Binance , which is globally renowned as one of the largest and most reputable exchanges . The Radiant Capital project is particularly noteworthy within the Decentralized Finance (Defi) protocols . Following this investment, the project experienced an impressive increase of over 11% . It is worth mentioning that this surge occurred shortly after implementing a money market protocol built on LayerZero technology , enabling seamless integration with multiple blockchains .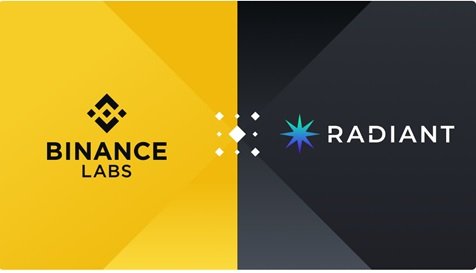 Key takeaways:
Radiant Capital, a lending and borrowing protocol with a primary focus on addressing fragmented liquidity in decentralized financial ecosystems , has received investment from Binance Labs . This recent funding round serves as a testament to Binance Labs' dedication to backing groundbreaking initiatives that are poised to shape the future of DeFi .
The raised funds will be allocated towards advancing technology development efforts , including expanding support for multiple EVM chains and implementing comprehensive LayerZero messaging capabilities. Additionally , various product enhancements are also on the horizon as part of this investment .
About Radiant :
The primary objective of Radiant is to establish a connection between numerous fragmented liquidity sources within the DeFi sector . This will be achieved through the introduction of the pioneering cross-chain money market , which allows users to effortlessly deposit and borrow assets across various blockchain networks . Moreover, Radiant's Dynamic Liquidity Providers are granted both governance privileges and a portion of platform fees generated from high-value assets like bitcoin, ether, BNB, and stablecoins .
Price Analysis:
Radiant Capital (RDNT) coin, which rose as much as $0.50 on April 15 , 2023, started to withdraw from here and fell to $ 0.23 on June 12, 2023. After consolidating at these levels for a while, it rose to $0.3175. Without volume, it could not sustain this rise and went down to the support point again. It rose to the resistance level again with the investment news of Binance Labs. The price must stay above $0.3262 for the uptrend to begin. Falling fibo levels can be followed as resistance in possible rises .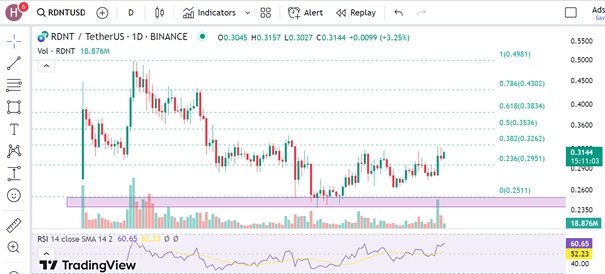 Our support point: $0.2776 – $0.2488 sequential resistances: $0.3262 – $0.3536 – $0.3834 – $0.4302 $0.4981