Swapping between popular blockchain networks is becoming increasingly commonplace as more and more investors diversify their portfolios. For traders looking to swap ERC20 to BEP20 in Trust Wallet securely, we will tell you how to swap ERC20 to BEP20 in Trust wallet. Hope it will help you.
Before We Begin: What Are ERC20 and BEP20?
Before we talk about how to swap ERC20 to BEP20 in Trust Wallet, we should talk a little bit about what ERC20 and BEP20 are. ERC20 stands for Ethereum Request for Comments 20 and is a technical standard utilized by smart contracts on the Ethereum blockchain to create fungible tokens. These tokens, which can be exchanged one-for-one with each other, enable users access to features like the total supply of said token, balance in an address, and transfer from one address to another.
Thanks to the ERC20 standard, the Ethereum blockchain has seen exponential growth in token adoption. This includes some of the most popular tokens, such as USDC, LINK, and UNI, which are all based on the ERC20 protocol. This advancement has enabled various use cases like asset-backed tokens, stablecoins, and governance tokens that have opened up a large ecosystem for developers and users alike.
BEP20 is a technical standard for tokens used on the innovative and disruptive Binance Smart Chain (BSC) blockchain—similar to ERC20 found on Ethereum. It follows a set of rules and protocols, integrating seamlessly with its ecosystem featuring wallets, exchanges, and other DeFi platforms. Token holders can transfer funds between addresses while viewing token balances; these functions are identical to those seen with ERC20 tokens.
How to Swap ERC20 to BEP20 in Trust Wallet: A Step-by-Step Guide
Trust Wallet does not offer a native cross-chain bridge solution, so if you want to convert your ERC20 tokens to their BEP20 version, Binance will act as the perfect intermediator. So, this is how to swap ERC20 to BEP20 in Trust Wallet:
1 – Log Into Your Binance Account:
To begin, open the Binance app on your device and log in to your account. If you are new to Binance, you can easily create a free account. Or if that's not what you want, utilize either the web or desktop version of Binance instead – this guide still applies! Both platforms' steps are identical; it doesn't matter which one you use.
2- Select "Wallets" and "Funding":
To access your Binance Funding wallet, open the Binance app and tap "Wallets" on the bottom navigation bar, then select "Funding."
3- Click Deposit and Choose an ERC20 Token:
To convert your ERC20 tokens to BEP20, navigate to the Funding wallet tab and click "Deposit." You can select any type of token from USDT all the way up to Chainlink or Shiba Inu.
4- Select Ethereum as the Network:
Now, pick "Ethereum (ERC20)" from the network chooser dialog to ensure you use the appropriate network for your transaction. By doing this, you can guarantee a successful and secure transaction with Ethereum.
5- Copy Your Binance Wallet Address:
Click "Copy" adjacent to the wallet address, and ensure that you select your Ethereum wallet. This will be required later in the process. If you are utilizing Binance on your PC, then this step is unnecessary since you can easily scan a QR code within Trust Wallet to receive their respective wallet address.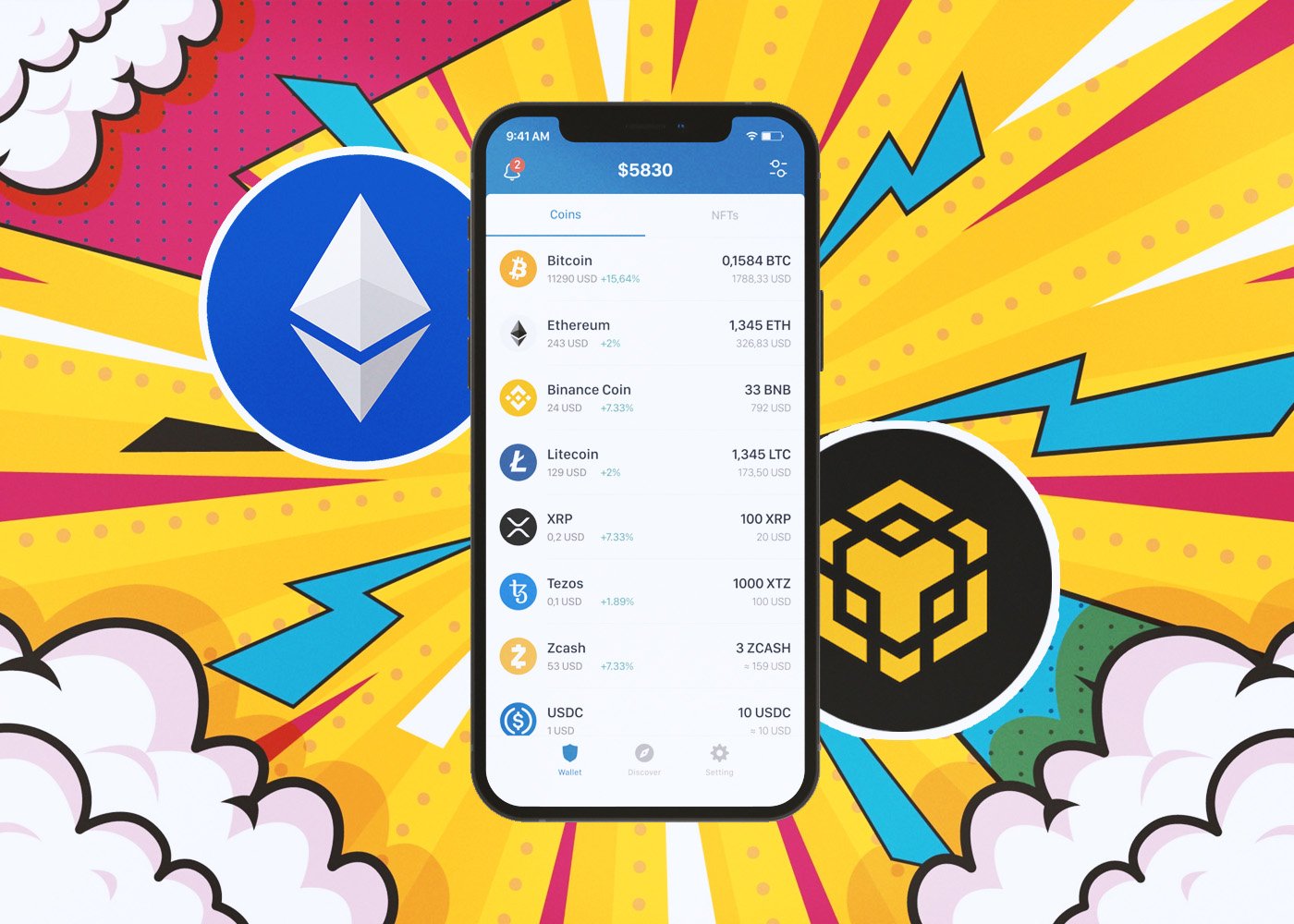 6- Launch the Trust Wallet and Select the ERC20 Token You Want:
Open up Trust Wallet on your device or browser. Identify the ERC20 token you want to convert (the one you selected from Binance). If it isn't displayed on your Trust Wallet, don't worry—just manually add it and proceed!
7- Click "Send" on the Token Details Page:
This is very straightforward. Click "send" on the token details page you've just opened.
8- Paste Your Binance Wallet Address and Choose an Amount to Send:
Subsequently, paste your Binance ERC20 wallet address in the "Recipient address" section and type in how much cryptocurrency you'd like to transfer. Or, if that's too tiresome of a task, simply tap on the Scan icon to get your wallet address instantly by scanning the QR code provided by Binance. When done, press the "Continue" button in the page's upper right corner for confirmation.
9- Review the Fees and Approve:
Trust Wallet will display the fees for your transaction (in ETH). If you have enough ETH to cover those fees, go ahead and click "Approve" to complete it. But if not, don't worry—you'll just need to acquire some additional ETH since all transactions on the Ethereum network come with a gas fee that must be paid in ETH.
10- Go Back to the Main Menu and Click Recieve:
Head back to the Trust Wallet home page and select "Receive." Then, use the search bar to look up your chosen token's BEP20 equivalent. For instance, if you choose USDT, you must find its corresponding BEP20 version. After selecting it, tap on the "Copy" button to copy this address into memory.
11- Go Back to Binance and Click "Withdraw" Under the "Funding" Tab
Pretty simple. We are going to withdraw the tokens we've just sent.
12- Select the Tokens:
Subsequently, identify the token you transmitted earlier from Trust Wallet.
13- Enter Your Trust Wallet Address:
Now, insert the BEP20 wallet address you previously copied from Trust Wallet and choose "BNB Smart Chain (BEP20)" as the network for your transaction.
14- Enter an Amount to Withdraw:
To complete this transaction, key in the amount of crypto that you have transferred from Trust Wallet. Afterward, press "Withdrawal" and then continue with your two-step verification by putting in the code received on your phone number and email address or using an authenticator app (Google or Binance authenticator). Finally, select "Submit" to finish the process. To view the BEP20 balance of the token you converted using Binance, return to Trust Wallet and refresh your available balances. If it does not appear on the home screen, be sure to add it manually.
Now You Know How to Swap ERC20 to BEP20 in Trust Wallet
To wrap it up, by following the steps outlined in this guide, you should now know how to swap ERC20 to BEP20 and vice versa in Trust Wallet. When making these transactions, please take care to double-check all of your details accurately, as mistakes could result in hefty fees or incorrect transactions. If you ever find yourself stuck or need assistance regarding the process, please contact the Trust Wallet support team – they will be more than happy to lend a helping hand.
It may get your attention: