Are you looking for a way to delete your Trust Wallet account? This guide will provide you with step-by-step instructions on how to do so safely and securely. Trust Wallet is one of the most popular cryptocurrency wallets available, making it an ideal choice for those new to digital assets. However, if you've decided this isn't the right wallet service for you, we'll show you how to delete a Trust Wallet account in just a few clicks. Keep reading to find out more!
Let's Get Into How to Delete a Trust Wallet Account:
Trust Wallet is a non-custodial wallet, and while it's technically feasible to delete your account from the device you're using, this will not completely erase any of your transactions or wallet address from the blockchain. The only thing that deleting an account will accomplish is removing the said account from your specific device — however, if you still have access to its recovery phase, then restoring it in the future should be quite easy!
Here's How to Delete a Trust Wallet Account
To start, access the Trust wallet and click on the Setting option in the lower-right corner.
Take a dive into the settings page and choose the first Wallets option to display all of your active wallets in Trust Wallet!
Slide the wallet you want to delete to the left and tap "Delete" when prompted for it to be removed. By doing this, you will have successfully deleted your desired wallet!
Congratulations! You have successfully deleted the chosen Trust Wallet account. If you want to delete any other wallets from your Trust Wallet app, simply follow these steps. It is important to remember that if a wallet has been deleted without backing up its unique 12-word recovery phrase, access to it will be lost forever!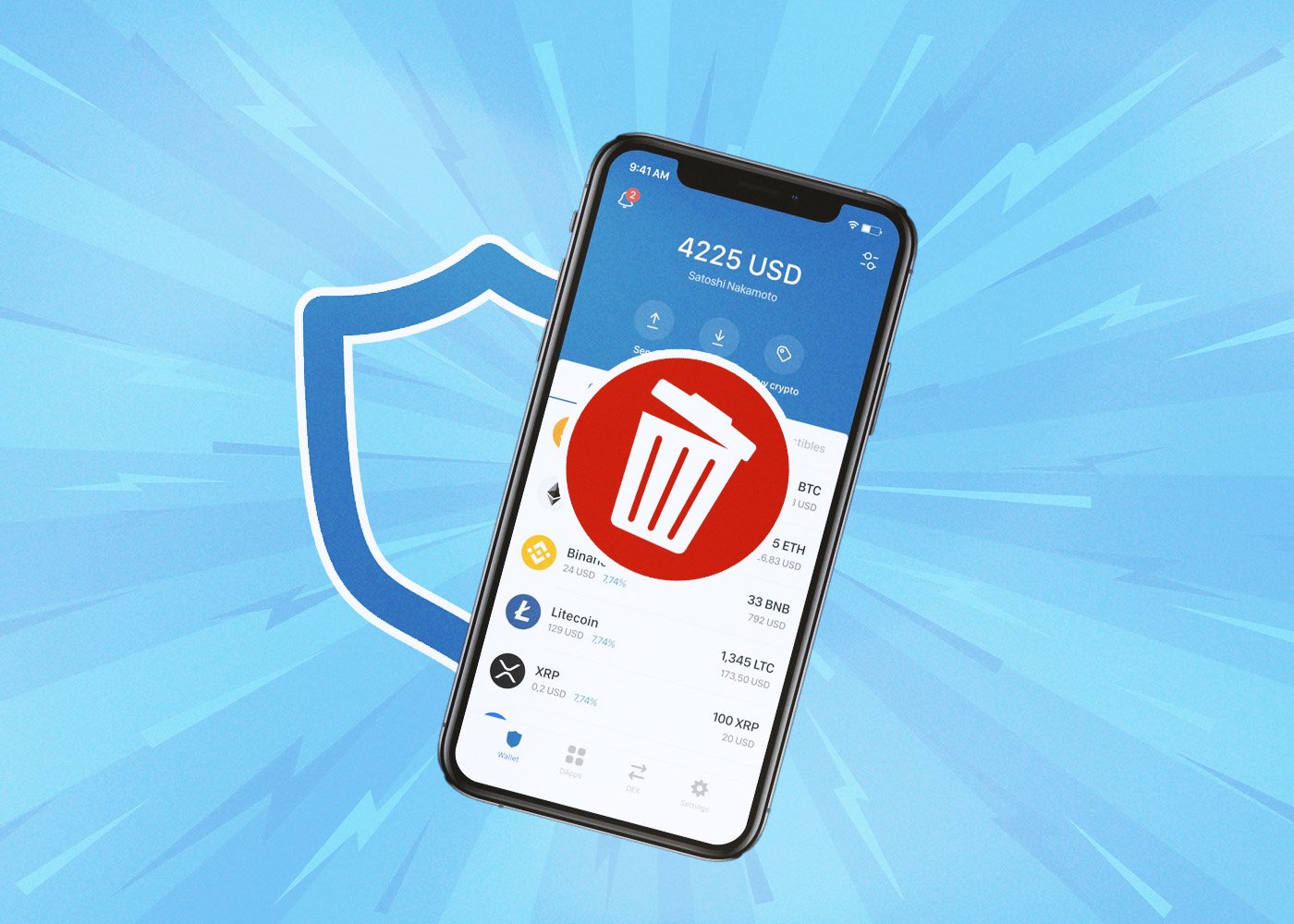 How to Recover a Trust Wallet Account
Suppose you have either accidentally or intentionally deleted the Trust Wallet app from your device. In this case, it is paramount to determine if you still possess the 12-word recovery phrase, as that will decide whether or not you can regain access to your wallet and funds. If so, re-downloading the Trust Wallet app on either App Store or Play Store should be enough to restore all of its content by just entering in your backup recovery phrases – hassle-free!
In contrast, if you weren't fortunate enough to save a backup of your recovery phrase for your wallet, the funds inside are likely gone forever unless you can uncover a way to reclaim them. Unlike exchanges where there is an option to reset account passwords or simply try logging in again with another attempt? Non-custodial wallets like Trust Wallet don't have that luxury since you didn't "register" an account when creating one; hence no way of reversing access due to forgotten information. And so, if your recovery phase was lost by unfortunate circumstances – goodbye funds!
Final Words:
So there you have it, a step-by-step guide on how to delete a Trust Wallet account. We hope this has been helpful and informative for those looking for easy ways to manage their digital assets. As always, before deleting anything, make sure to double-check that your account details and assets are backed up if needed. If you need more help or have follow-up questions regarding any of these steps, there are plenty of resources out there, such as Trust Wallet's social media accounts or customer service team.
It may get your attention: