This article centers around a thorough assessment of FRONT coin's technical and fundamental attributes using data obtained from www.coinmarketcap.com . Our report aims to address vital inquiries regarding the projects associated with the cryptocurrency ; determining significant factors affecting its market value ; reviewing which are reliable exchanges for trading it  ; identifying traded currency pairs ; exploring assorted key metrics that demonstrate critical aspects of performance such as highest low price values attained among other essential economic indicators. We will also provide regular weekly graphical or technical analyses aimed at assisting potential investors evaluate feasible investment risks areas while identifying prospective profits.
What is FRONTİER (FRONT) Coin?
Frontier (FRONT) is a cryptocurrency token that operates on the Ethereum blockchain . It serves as the native utility token for the Frontier platform , which is designed to simplify and enhance decentralized finance (DeFi) interactions . The FRONT coin plays a crucial role in accessing various features and functionalities within the Frontier ecosystem .
As an ERC-20 token, FRONT can be stored in compatible Ethereum wallets and traded on supported cryptocurrency exchanges . Holders of FRONT tokens may benefit from certain privileges or incentives offered by the Frontier platform , depending on its specific use cases and governance mechanisms .
It's worth noting that cryptocurrencies are highly volatile assets, so it's important to conduct thorough research and exercise caution before engaging with any digital currency or investment opportunity .
If you want to know more about the Frontier (FRONT) coin , you can visit its website.
https://www.frontier.xyz/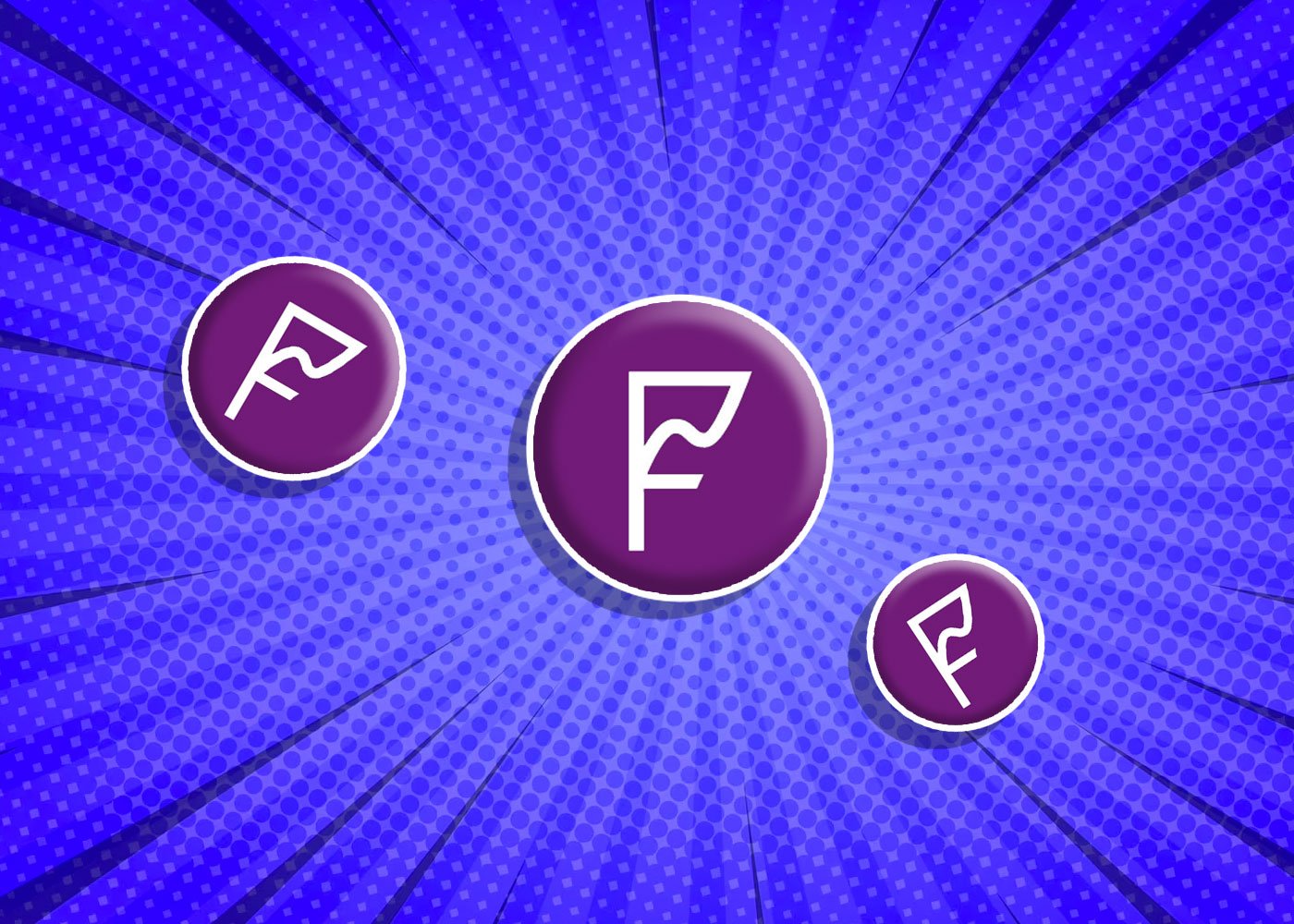 Projects:
 Frontier (FRONT) is primarily associated with the Frontier platform , which aims to provide a user-friendly interface and comprehensive tools for interacting with decentralized finance (DeFi) protocols . While FRONT itself serves as the native utility token for the Frontier ecosystem , it is important to note that FRONT's value lies in its functionality within the platform rather than being directly tied to specific projects .
The main focus of Frontier is to empower users by simplifying their access to various DeFi applications and services . By using the Frontier app or integrating with supported wallets , users can seamlessly interact with multiple DeFi protocols such as lending platforms , decentralized exchanges (DEXs) , yield farming opportunities , and more .
Frontier also offers portfolio tracking features that allow users to monitor their DeFi assets across different networks and platforms from a single interface . This provides convenience and efficiency for those who actively participate in DeFi activities.
It's essential to stay updated on the latest developments regarding Frontier's integration partnerships , new functionalities, and any additional projects that may arise within their ecosystem . Checking official sources like project websites or social media channels would be beneficial for obtaining accurate information about ongoing initiatives related to FRONT coin .
Factors affecting price: 
The price of Frontier (FRONT) coin, like any other cryptocurrency , can be influenced by various factors. Here are some key factors that may impact the price of FRONT :
Overall Market Conditions : The broader cryptocurrency market conditions, including trends in Bitcoin and major altcoins , can have a significant influence on the price of FRONT . Bullish or bearish market sentiments can affect investor confidence and drive buying or selling activity .
Adoption and Partnerships : News related to new partnerships, integrations with DeFi protocols or platforms , or increased adoption of Frontier's services could positively impact the demand for FRONT tokens. Such developments may attract more users and investors to participate in the ecosystem .
Technological Developments : Upgrades to the underlying technology of Frontier platform, improvements in user experience, scalability solutions , security enhancements , or any other technical advancements may generate positive sentiment around FRONT token and potentially contribute to its value appreciation .
Regulatory Environment : Changes in regulatory frameworks specific to cryptocurrencies or decentralized finance (DeFi) sector at large can impact investor sentiment towards FRONT coin. Favorable regulations might encourage investment while unfavorable regulations could lead to uncertainty and potential sell-offs .
Investor Sentiment : Market psychology plays a crucial role in determining cryptocurrency prices. Factors such as speculation , media coverage (positive/negative) , social media trends , community engagement levels, and general perception about DeFi projects could all influence investor sentiment towards FRONT.
It is important to note that cryptocurrencies are highly volatile assets subject to rapid fluctuations based on various internal and external factors mentioned above. Therefore it is recommended to conduct thorough research before making any investment decisions regarding FRONT coin or any other digital asset .
Where can I buy FRONTİER Coin (FRONT)?
Exchange                                   Pair                                Volume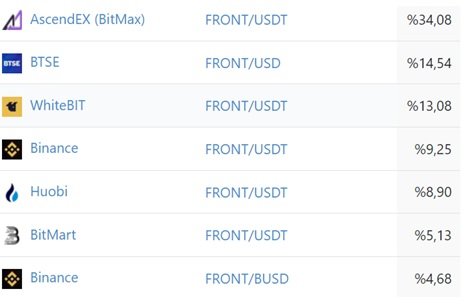 FRONTİER Coin (FRONT) Baseline Assessment :
 The market cap of the FRONTİER (FRONT) coin is $12.650.768  and its circulating supply is 87.456.250  units. Its maximum Supply is 90.000.000 units, with a fully diluted valuation of $13.018.728.
What is the high price point for FRONTİER Coin (FRONT)?
Frontier (FRONT) highest price is $6.99 recorded on Feb 17, 2021. The current price is -97.91%  lower than the all-time high .
What is the low point of the price for FRONTİER Coin (FRONT)?
Frontier (FRONT)  token's lowest price was $0.1281 on Jun 15, 2023.
FRONTİER Coin (FRONT) Technical Outlook: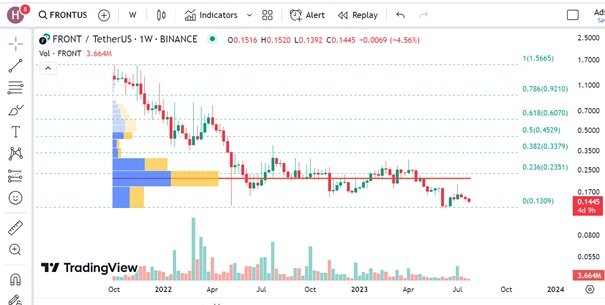 Frontier (FRONT) coin weekly support zone is : $0.1309 and The resistance zone is 0.2351 – $0.3379 – $0.4529 – $0.6070 – $0.9210 – $1.5665
Frontier ( FRONT ) coin, which was $ 1,566 on October 04, 2021, fell to the level of $ 0.12 on June 05, 2023 . It has been trying to stay above the $0.1309 support level for the last few days . The price must remain above $0.3379 for the uptrend to start. Two important resistance points must pass in order to stay above this level. One of them is $0.2166 , which is the volume zone of the downtrend, and $0.2351, which is the fibo 0.236 level . Fibo levels should be followed as resistance to possible rises.
Our support point: $0.1309 sequential resistances: $0.2351 – $0.3379 – $0.4529 – $0.6070 – $0.9210 – $1.5665
Investment information comments, and recommendations contained herein are not within the scope of investment consultancy . The content, comments, and recommendations herein are not guiding but general . These recommendations may not suit your financial situation and risk and return preferences .  Therefore making an investment decision based solely on the information herein may not yield results that meet your expectations .