According to the countdown timer , there is a little over two weeks left until the Litecoin halving event . In anticipation of this event, prominent wallet investors have acquired approximately 590,000 LTC tokens within the past 48 hours . These whales have invested around $55 million during this two-day period to expand their holdings of LTC .
The countdown has begun for the Litecoin halving!
Litecoin's highly anticipated halving event is quickly approaching. As indicated by the Nicehash countdown timer, LTC's block reward reduction will occur within less than 15 days . This halving event is generally regarded as a bullish factor for the altcoin . Over the past 48 hours , significant wallet investors in Litecoin have been consistently accumulating more altcoins . This accumulation further strengthens the optimistic outlook among market participants. While Bitcoin's halving event is still nearly a year away, Litecoin, which was created through a fork of BTC, is nearing its own halving event scheduled for August 3rd according to the Nicehash countdown timer .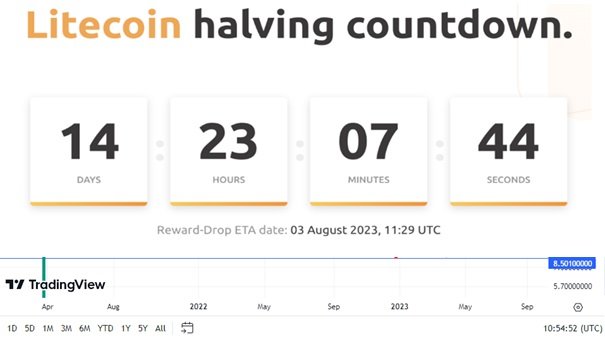 Litecoin miners are preparing for a coup . The block subsidy will decrease from 12.5 LTC to 6.25 LTC per block.
Whales pile up LTC ahead of Litecoin halving
The adoption of Litecoin (LTC), the twelfth largest cryptocurrency by market capitalization is witnessing an increase among whales . Renowned crypto analyst Ali Martinez reveals in a recent publication that prominent market whales have amassed significant quantities of LTC . According to data provided by Santiment, these whales acquired over 590,000 LTC within a span of 48 hours . At the time of the report, these tokens were valued at approximately $59 million according to Martinez's findings.
According to Santiment data shared by Martinez , whales holding 100,000 to 1 million Litecoins have joined the latest accumulation spree.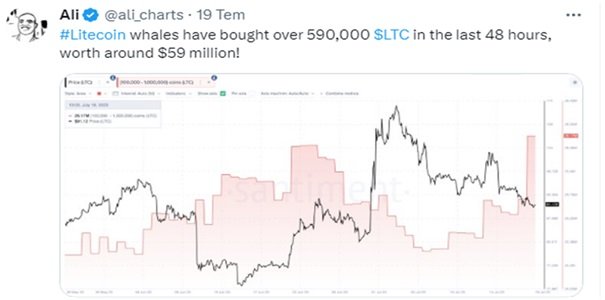 LTC price performance and developments
Litecoin's value has continued to exhibit a positive response following the recent accumulation by prominent cryptocurrency whales . As of now , LTC is being traded at $93.12, marking a 3% increase in the past 24 hours . However, it's worth noting that LTC has experienced bearish trends for most of this month and has seen a monthly decline of 0.5% (MTD) so far . Additionally, the trading volume for LTC has decreased by 6.26% within the last day, currently amounting to $457.64 million.
It is important to highlight that Litecoin holds the position as the twelfth largest cryptocurrency in terms of market capitalization , with an estimated valuation of $6.8 billion.
Moreover, Litecoin has recently achieved significant milestones that have bolstered investor confidence in this asset class. Just earlier this month , Litecoin accomplished a remarkable feat by reaching a total of 170 million transactions since its inception back in October 2011 . The development team behind this cryptocurrency proudly shared this achievement on their Twitter platform .
Also, Litecoin's official Twitter address also revealed that LTC is ranked as the number one payment crypto on BitPay .