This article will analyze the FLOKI coin according to coinmarketcap data. First, we will discuss the FLOKI coin and its projects and make technical and graphic analyses. The analysis we will do in the weekly period will help the investors to take risks and manage their portfolios.
What is FLOKI Coin?
Floki Coin is a relatively new cryptocurrency inspired by Elon Musk's dog, Floki. It is a community-driven, decentralized digital currency that aims to become the preferred medium of exchange for online transactions.
What are the projects of FLOKI?
The primary project of Floki Coin is to create a decentralized marketplace where users can buy and sell goods and services using the Floki Coin cryptocurrency. Compared to traditional payment methods, the platform aims to make online transactions faster, more secure, and less costly.
Other projects of Floki Coin include:
The development of its blockchain.
Creating a mobile wallet application.
Partnering with merchants to accept Floki Coin as a form of payment.
Factors Influencing FLOKI Price
The factors that influence the price of Floki are similar to those that affect other cryptocurrencies. They include supply and demand, market sentiment, the overall performance of the cryptocurrency market, and the adoption and use of Floki Coin in various applications. Additionally, developments and announcements related to the projects of Floki can also impact its price. For example, if the team behind Floki announces significant partnerships or updates to their technology, it could lead to increased demand and higher prices. On the other hand, negative news or market volatility could lead to a decline in the price of Floki Coin.
FLOKI COİN TECHNICAL ANALYSIS
After hitting its historic high of $0.00034 in November 2021, FLOKI has dropped nearly 98% in a year, down to $0.0000048. FLOKI is currently trading at $0.000038. According to coinmarketcap data, FLOKI, which has a size of $378,635,039, has had a volume of $34,839,326 in the last twenty-four hours.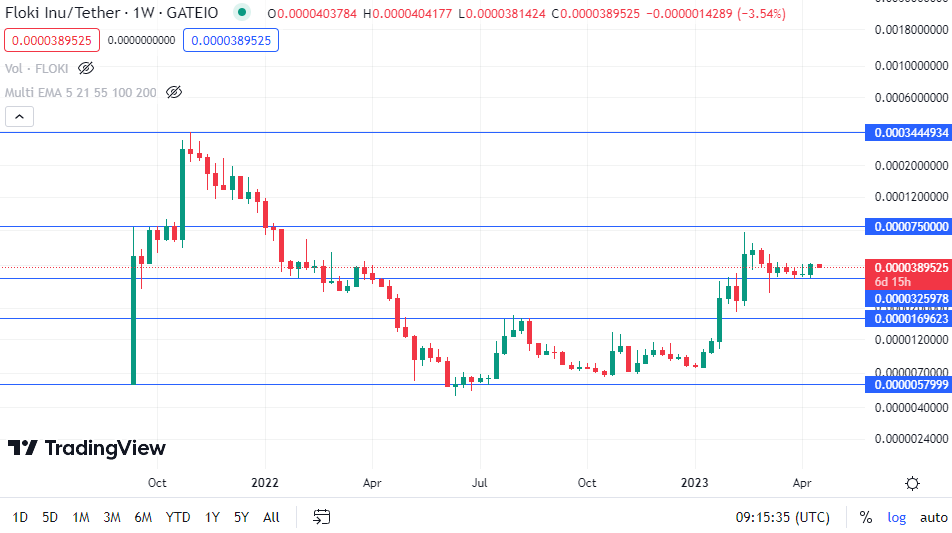 FLOKI Chart Analysis
When we examine the FLOKI chart, which lost its value by 98% within a year after seeing its historically high value of $0.00034 in November 2021, we see that after ending the one-year falling trend, it remained in a horizontal trend for nine months and started to rise since the beginning of 2023. Still far from its peak, FLOKI's weekly chart supports $0.000032, while the resistance point can be followed at $0.000075.
This article does not contain investment advice or recommendations. Every investment and trading move involves risk, and readers should conduct their research when deciding. This article does not include investment advice or suggestions. Every investment and trading move involves risk, and readers should perform their analysis when determining.
It may get your attention: