This article will analyze the DENT coin according to www.coinmarketcap.com data. First, we will discuss the DENT coin and its projects and make technical and graphic analyses. The analysis we will do in the weekly period will help the investors to take risks and manage their portfolios.
What is DENT Coin?
DENT Coin is a cryptocurrency that operates on the Ethereum blockchain. It is the native token of the DENT Wireless platform, which aims to disrupt and revolutionize the global telecommunications industry. The primary goal of DENT Wireless is to create a decentralized marketplace for buying, selling, and trading mobile data.
What are the projects of DENT?
The projects of DENT Coin revolve around creating a global ecosystem where users can easily exchange mobile data. Here are some critical projects associated with DENT Coin:
DENT App: The DENT App allows users to buy, sell, and trade mobile data directly with other users. It enables individuals to monetize their unused data and purchase additional packages from various providers worldwide.
DENT Exchange: The DENT Exchange is a decentralized marketplace where users can trade mobile data packages. It facilitates peer-to-peer transactions and aims to increase competition and efficiency in the telecommunications market.
DENT eSIM: DENT eSIM is a digital SIM card can be remotely provisioned and activated on compatible devices. It eliminates the need for physical SIM cards and enables users to switch between network providers seamlessly.
DENT Loyalty Program: DENT offers a loyalty program where users can earn rewards and discounts based on their activity within the DENT ecosystem. These rewards can be used to obtain additional mobile data or other services.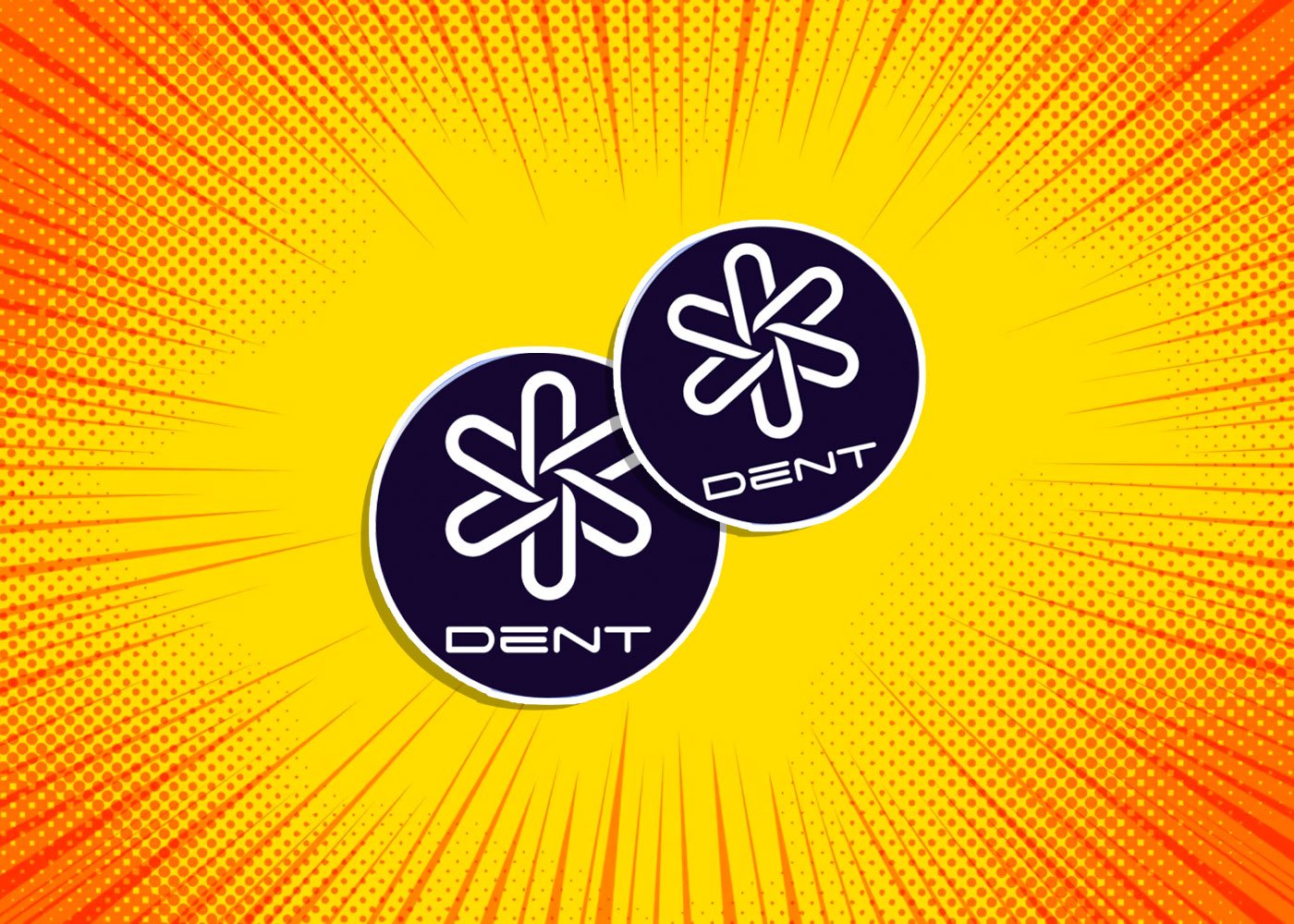 Factors Influencing DENT Price
Like any cryptocurrency, the price of DENT Coin is influenced by various factors. Here are some factors that can impact the cost of DENT Coin:
Market Demand: The demand for DENT Coin in the market, driven by user adoption and interest, can significantly affect its price. The increased need usually leads to price appreciation, while decreased demand can result in price declines.
Utility and Adoption: The level of adoption and utilization of DENT's projects, such as the DENT App and DENT Exchange, can impact the value of the DENT Coin. Higher usage and increased platform utility may contribute to a positive price trend.
Overall Cryptocurrency Market: The broader market conditions and trends in the cryptocurrency space can influence the price of DENT Coin. Market sentiment, regulatory developments, and investor confidence can impact its value.
Partnerships and Integrations: Collaborations and partnerships with established telecommunication companies or other blockchain projects can positively affect the perception and value of DENT Coin. Such alliances can increase the token's visibility, credibility, and utility.
Technological Developments: Advancements in the DENT Wireless platform, such as the introduction of new features, improvements in scalability, or the successful implementation of planned projects, can influence the price of DENT Coin.
It's important to note that cryptocurrency markets are highly volatile and subject to various unpredictable factors. Therefore, investing in cryptocurrencies carries risks, and it's crucial to conduct thorough research and consider professional advice before making any investment decisions.
DENT COİN TECHNICAL ANALYSIS
After seeing its historical high of $ 0.022700 in April 2021, DENT dropped 97% by the end of 2022, down to $ 0.000771. Although it went up to $ 0.001500 with the purchases in the market in  February 2023, it is currently trading at $ 0.000791. According to www.coinmarketcap.com data, DENT, which has a size of $78,296,589, has had a volume of $2,795,722 in the last twenty-four hours.
DENT Chart Analysis
DENT coin, which we have heard about for the last two years, lost 97% of its value from April 2021 to the end of 2022, falling from $ 0.022700 to $ 0.000771. Although it reached up to $0.001500 with the purchases in the market at the beginning of 2023, it fell again and is currently traded at $ 0.000791. When we examine the weekly chart, the DENT coin is approaching its 2023 opening price again, and this price value of $ 0.000771 is in the primary support position. If this support is broken down, selling pressure may increase to $0.000567. The first resistance zone for DENT is $ 0.001307 in the buy-side movements in the market.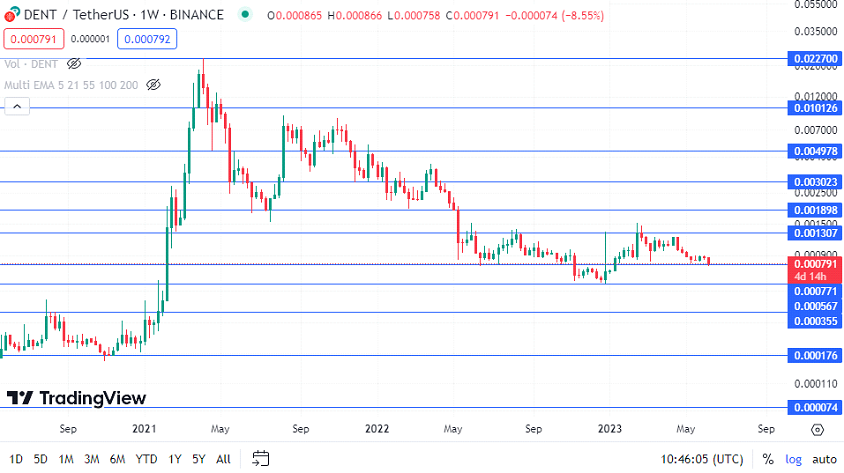 This article does not certain investment advice or recommendations. Every investment and trading move involves risk, and readers should conduct their research when deciding. This article does not include investment advice or suggestions. Every investment and trading move involves risk, and readers should perform their analysis when determining.
It may get your attention:
FHA Multifamily Loan Guidelines 2023 : What You Need to Know
How to Recover Your MetaMask Wallet: A Step-by-Step Guide