In this article, we will do the technical and fundamental analysis of the Crust Network (CRU) coin according to the information we received from the website www.coinmarketcap.com. What is the CRU coin in our article? You will find the answer to the questions of their projects, on which stock exchange, and with which currency pairs they are traded. The analyses we will make in weekly periods will help coin investors anticipate opportunities and risks and develop an investment strategy accordingly.
What is Crust Network ( CRU )Coin?
Crust Network (CRU) is a decentralized storage network protocol that enables users to store and distribute data securely, efficiently, and affordably. The CRU token is the native cryptocurrency of the Crust Network and serves as the utility token for payment transactions within its ecosystem.
The Crust Network aims to provide an open-source, Web3-compatible infrastructure for dApps (decentralized applications). It leverages blockchain technology to create a trustless environment where users can share their storage resources with others securely.
Overall, the CRU token plays an important role in incentivizing users who contribute their storage capacity to participate in the Crust Network ecosystem.
If you want to learn more about Crust Network (CRU) coin, you can visit https://crust.network/.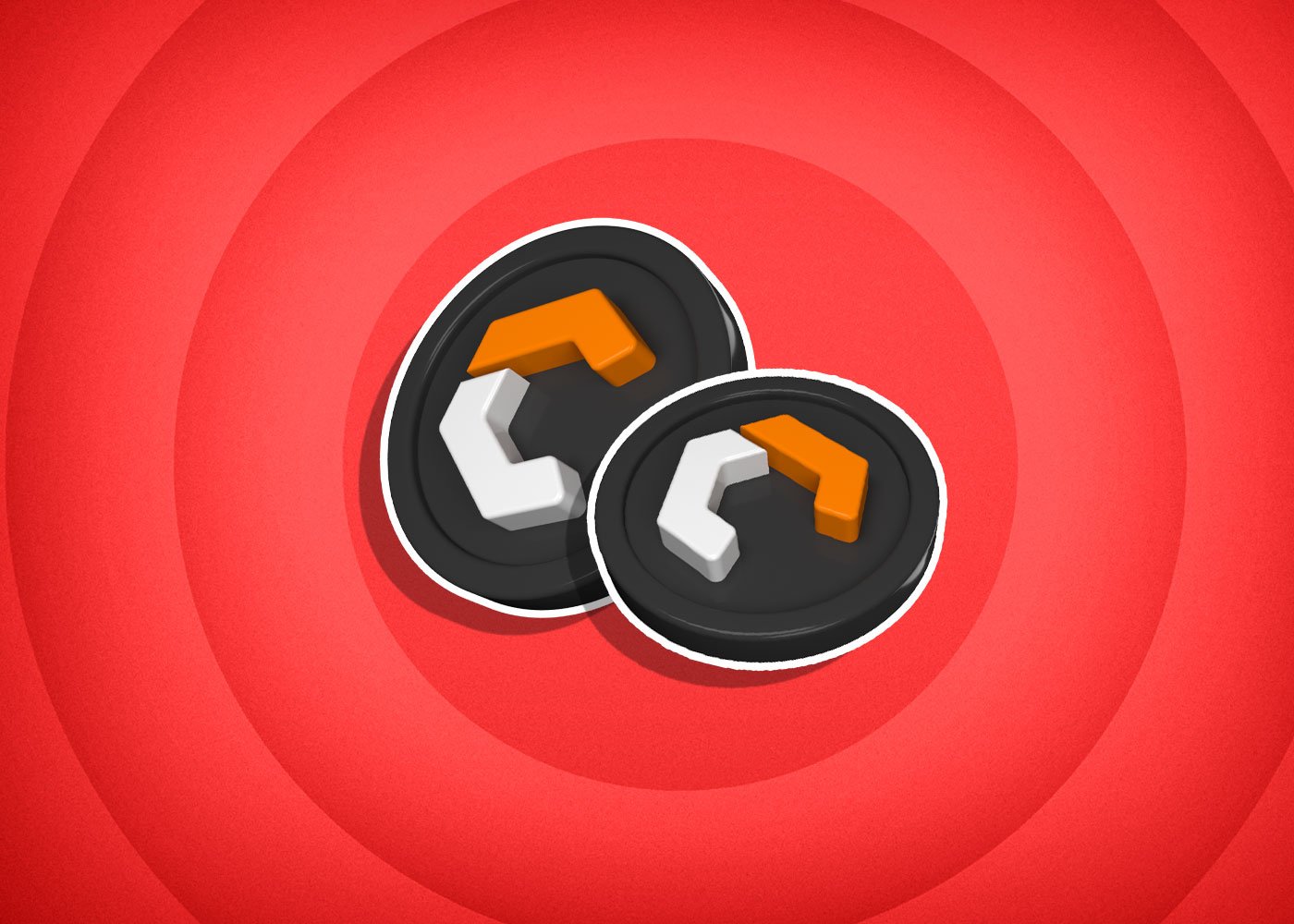 Projects:
The Crust Network (CRU) has several projects and initiatives in development. Some of them are:
Decentralized Storage: The main objective of CRU is to create a decentralized storage network that enables secure, efficient, and affordable data storage.
Interoperability with other blockchains: The Crust team is working on integrating the network with other blockchain networks to enable seamless data exchange between different protocols.
IPFS Integration: The Crust Network plans to integrate the InterPlanetary File System (IPFS) protocol into its platform, which will provide an additional layer of security for storing and sharing data.
NFT Marketplace: The CRU team is developing a marketplace for Non-Fungible Tokens (NFTs). It will allow users to buy, sell, and trade NFTs securely using smart contracts on the Crust Network.
Cross-chain DeFi Applications Development: Another project in progress by the CRU team includes creating cross-chain decentralized finance applications that can operate on multiple blockchains simultaneously.
Overall, these projects aim at making the Crust Network more versatile and user-friendly while providing developers with the tools they need to build their dApps efficiently.
Factors affecting price: 
The price and performance of the Crust Network (CRU) token can be influenced by several factors, some of which are:
Adoption: The level of adoption of the Crust Network and its use cases can impact the demand for CRU tokens.
Competition: Competition from other decentralized storage networks or blockchain protocols that offer similar functionalities as CRU could affect its popularity.
Market Sentiment: General market sentiment towards cryptocurrencies, especially in terms of regulation and government policies, can influence investor confidence in CRU.
Technology Developments: Any significant technological developments within the Crust Network ecosystem, such as new partnerships, upgrades, or integrations with other blockchains, may have an effect on the token's price.
Partnerships & Collaborations – Partnership announcements with well-known firms or collaborations with other blockchain projects often result in a surge in buying activity among investors due to increased interest in project development potential 
Cryptocurrency Trends – Overall trends across cryptocurrency markets, including shifts in trading volume between different digital assets, also play a role in CRU's performance
It is important to keep track of these factors when considering investing or analyzing the value proposition behind any cryptocurrency project like CRU.
Where can I buy Crust Network (CRU)?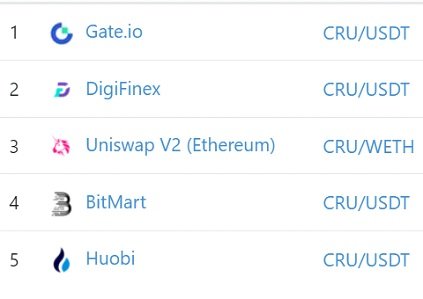 Crust Network (CRU) Baseline Assessment :
The Crust Network (CRU) token circulating supply with a market cap of $ 19.180.937 is 23.680.286 units, and its total supply is 28.276.070 fully diluted valuation of $22.902.615
What is the high point of the price for Crust Network (CRU)?
Crust Network (CRU) token highest price is $180.30, recorded on April 12, 2021 (more than one year). The current price is %-99.72 lower than the all-time high.
What is the low point of the price for Crust Network (CRU)?
Crust Network (CRU) token's lowest price was recorded as $0.51 on November 07, 2022.
Crust Network (CRU) Technical Outlook: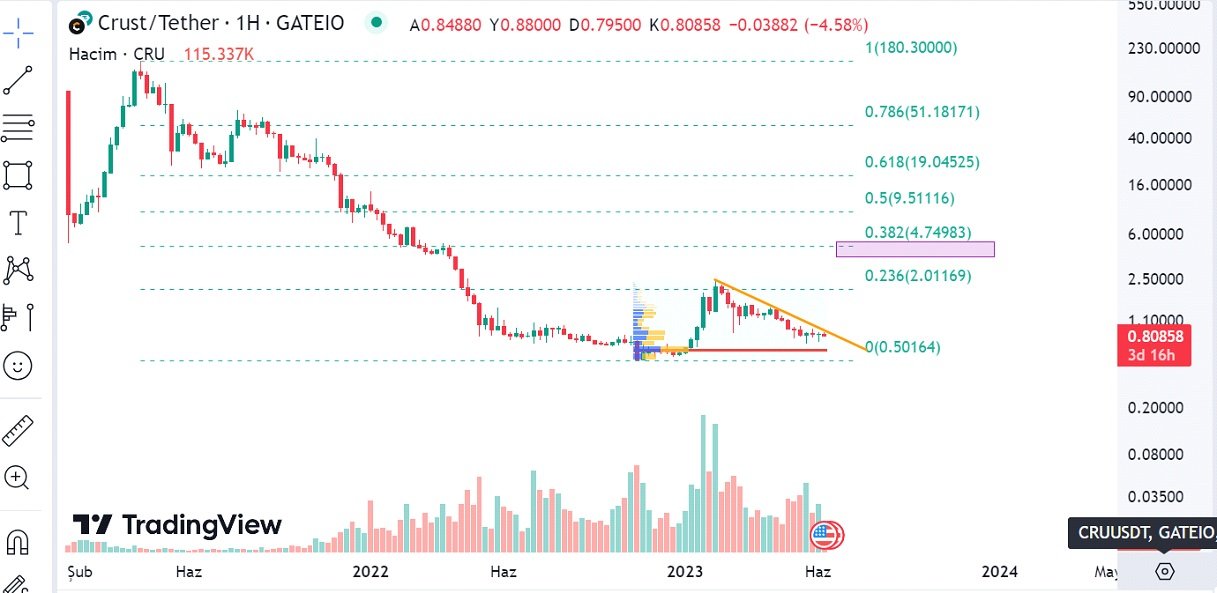 The CRU token, which entered a downward trend from its historical peak on April 12, 2021, made a weekly closing at the low price of $0.51 on November 7, 2022, reacted up to the fibo 0.236 level and rose to $ 2.011, providing a return of 380.40%. $0.613, which is the point where the volume occurs during the rise, will be our stop point in our long transactions. In the medium term, the falling line should be followed in the token, which has a descending triangle image, and in case of a volume break and the price closes on the line, it is expected to rise up to $4.79, which is the formation target and corresponds to the fibo 0.382 level. 
During the uptrend, our sequential resistances will be five points. 
These are $2.01 – $4.74, $9.51, $19.04, and $51.18, respectively. Two important support points for us are $ 0.613 and $0.50.
Investment information, comments, and recommendations contained herein are not within the scope of investment consultancy. The content, comments, and recommendations herein are not guiding but general. These recommendations may not suit your financial situation and risk and return preferences. Therefore, making an investment decision based solely on the information herein may not yield results that meet your expectations.
It may get your attention:
NFT Marketplace Development: Tips and Strategies [2023]
Unleashing the Power: Exploring the Potential of BNB Coin in the Crypto Landscape
Awesome and Good Paying Jobs for 18 Year Olds : Making Bank in 2023