In this article, we will analyze the CHZ coin, which is sixty-first behind Bitcoin, according to coinmarketcap data. First, we will discuss the CHZ coin and its projects and make a technical and graphic analysis. The analysis we will do in the weekly period will help the investors to take risks and manage their portfolios.
What is CHZ Coin?
CHZ (Chiliz) is a blockchain-based platform that enables sports and entertainment organizations to tokenize their assets and engage with their fans through various digital products. The native cryptocurrency of the Chiliz platform is the CHZ coin.
What are the projects of CHZ?
Some of the projects of CHZ coin include:
 Socios.com: A fan engagement platform that allows sports and entertainment organizations to create and sell branded fan tokens, which enable fans to access exclusive content, rewards, and experiences.
Fan Tokens: Branded digital assets representing voting rights and access to exclusive rewards and experiences within the Socios.com platform.
 Chiliz Exchange: A cryptocurrency exchange that allows users to trade CHZ and other cryptocurrencies.
Factors Influencing CHZ Price
There are several factors that can influence the price of CHZ coin, including:
Market demand: The price of the CHZ coin is determined by supply and demand. If there is high demand for CHZ coins, the price will increase, and vice versa.
Adoption of the Chiliz platform: As more sports and entertainment organizations adopt the Chiliz platform and create fan tokens, it can increase the demand for the CHZ coin and drive up its price.
Competition: CHZ coin faces competition from other cryptocurrencies and blockchain-based platforms that offer similar services. If these competitors gain traction, it could impact CHZ coins' demand and price.
Regulatory environment: Changes in the regulatory environment can affect the adoption and demand for cryptocurrencies like CHZ coin, which could impact its price. 
CHZ COIN TECHNICAL ANALYSIS
CHZ started trading in September 2019 and reached its highest peak value of $ 0.9449 in September 2021. Then, due to the selling pressure in the market, it lost 91% of its value until June 2022 and fell to $0.0811.At the time of writing, it is sold at $ 0.1178. According to www.coinmarketcap.com data, CHZ, which has a size of $799,442,224, has had a volume of  $70,228,551 in the last twenty-four hours.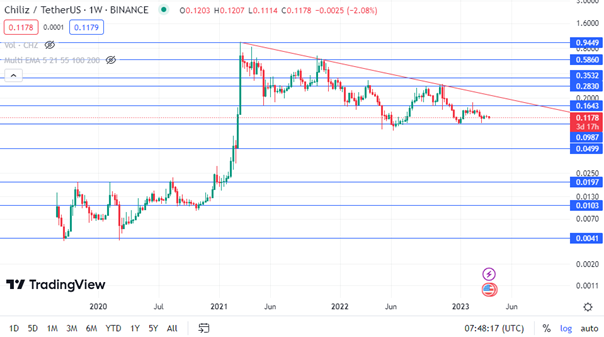 CHZ Chart Analysis
After reaching the highest peak value of $ 0.9449 in September 2021, CHZ fell 91% until June 2022, falling to $ 0.0811. When we examine the CHZ chart, we see that CHZ, which is still in a downtrend, is trying to stay above the $0.987 support. Staying above this support, its initial target will be $0.1643 and the downtrend line. CHZ, which will make the mid-rise when it rises above the downtrend, may face severe selling pressure and regress to $0.05 if it breaks the $0.987 support.
This article does not contain investment advice or recommendations. Every investment and trading move involves risk, and readers should conduct their research when deciding. This article does not include investment advice or suggestions. Every investment and trading move involves risk, and readers should perform their analysis when determining.
It may get your attention: