This article will analyze the CELO coin according to www.coinmarketcap.com data. First, we will discuss the CELO coin and its projects and make technical and graphic analyses. The analysis we will do in the weekly period will help the investors to take risks and manage their portfolios.
What is CELO Coin?
CELO is a cryptocurrency that operates on the Celo blockchain, designed to make decentralized financial (DeFi) systems and tools more accessible to individuals worldwide. The Celo platform aims to provide mobile-friendly financial services and enable financial inclusion for the unbanked and underbanked populations.
What are the projects of CELO?
Projects and Use Cases of CELO:
Celo Dollar (cUSD): Celo has its stablecoin called cUSD, which is pegged to the U.S. dollar. It is designed to provide stability and act as a medium of exchange within the Celo ecosystem.
Celo Governance: CELO holders can participate in the governance of the Celo protocol by voting on proposals and making decisions regarding protocol upgrades and changes.
Celo Wallet: Celo offers a mobile wallet called Valora, which allows users to store, send, and receive CELO and other Celo-based assets. The wallet aims to make it easy for users to access DeFi services and send money to anyone with a mobile phone number.  
Factors Influencing CELO Price
Factors Influencing CELO Price:
Overall Market Conditions: Cryptocurrency markets are influenced by general market trends, sentiment, and investor demand. If the overall market is bullish, it can positively impact the price of CELO and vice versa.
Adoption and Usage: Adopting and using the Celo platform and its applications can contribute to the demand for CELO. Increased usage of the Celo ecosystem, such as more transactions and users, can positively influence the token's price.
Network Activity: The level of activity on the Celo blockchain, including the number of transactions and the development of new projects and applications, can affect the price of CELO. Higher network activity often indicates increased interest and demand.
Partnerships and Integrations: Collaborations with other blockchain projects, businesses, or organizations can bring more attention and utility to CELO. Partnerships that expand the reach and use cases of the Celo ecosystem may positively impact the token's price.
Regulatory Environment: Regulatory decisions and actions, including CELO, can impact the overall cryptocurrency market. Changes in regulations, either positive or negative, can influence investor sentiment and the token's price.
It's important to note that cryptocurrency prices are highly volatile, and multiple factors can influence their value. Therefore, conducting thorough research and considering various factors is recommended when evaluating the potential price movements of CELO or any other cryptocurrency.
CELO COİN TECHNICAL ANALYSIS
After seeing its historical high of $ 10.957 in August 2021, CELO dropped 96% by November 2022, down to $ 0.4000. Although it went up to $ 0.9200 with the purchases in the market in February 2023, it is currently trading at $ 0.515. According to www.coinmarketcap.com data, CELO, which has a size of $257,427,483, has had a volume of $7,355,150 in the last twenty-four hours.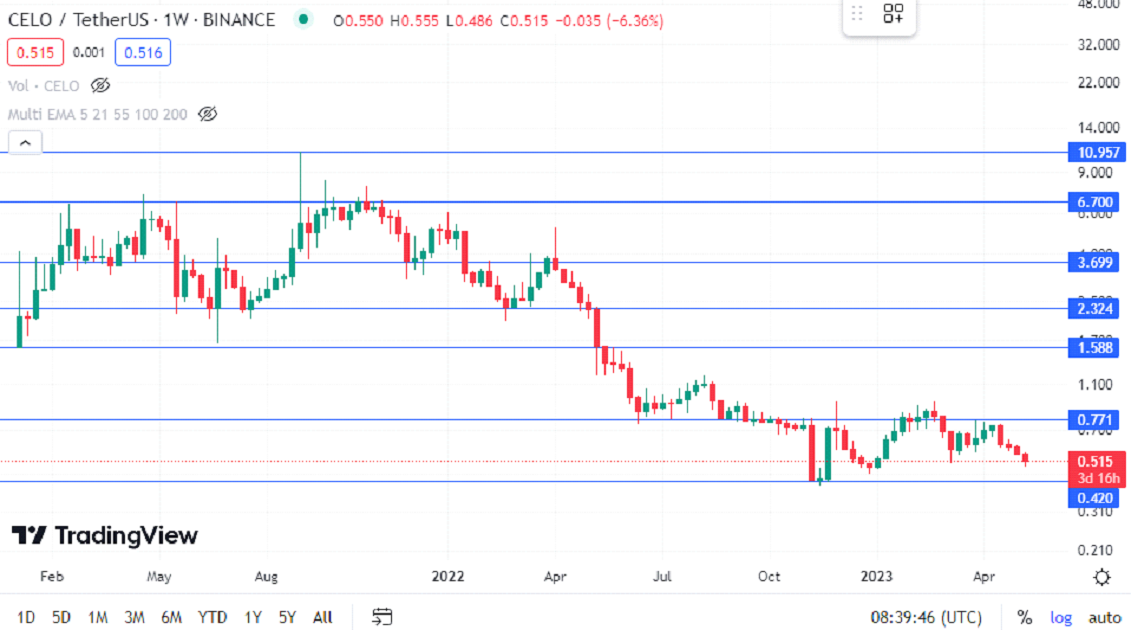 CELO Chart Analysis
The CELO coin fell 96% from August 2021 to November 2022, falling from $10.95 to $0.40. CELO, which rose to $ 0.92 from the beginning of 2023, could not continue and is currently trading at $ 0.515. When we examine CELO's weekly chart, it has consolidated between $0.420 and 0.771 for the last seven months. CELO, which will test the $0.420 support again in the coming weeks, can rise to $1,588 if it can close weekly above $0.771.
This article does not certain investment advice or recommendations. Every investment and trading move involves risk, and readers should conduct their research when deciding. This article does not include investment advice or suggestions. Every investment and trading move involves risk, and readers should perform their analysis when determining.
It may get your attention:
Untangling the Truth: Do Hasidic Jews Pay Taxes?
2023 Income Inequality: What Percentage of the Population Makes Over $300K?