This article will analyze the BSV coin according to coinmarketcap data. First, we will discuss the BSV coin and its projects and make a technical and graphic analysis. The analysis we will do in the weekly period will help the investors to take risks and manage their portfolios.
What is BSV Coin?
BSV (Bitcoin SV) is a cryptocurrency created in November 2018 due to a hard fork of Bitcoin Cash. The project aims to restore the original Bitcoin protocol, focusing on increasing the block size limit to enable greater transaction capacity and scalability.
What are the projects of BSV?
Some key projects associated with BSV include the Metanet protocol, which aims to create a more efficient and secure internet by leveraging blockchain technology, and the BSV Node project, which provides a full node implementation of the BSV protocol.
Factors Influencing BSV Price
The price of BSV is influenced by various factors, including overall market sentiment towards cryptocurrencies, developments and news related to the BSV ecosystem, adoption and usage of BSV by individuals and businesses, as well as regulatory and legal actions related to cryptocurrencies. Additionally, the supply and demand dynamics of BSV in the market also play a role in determining its price.
BSV COIN TECHNICAL ANALYSIS
BSV, which started to decline after seeing its historical high of $ 489 in April 2021, still seems to continue this downward trend. BSV, which dropped nearly 94% from its peak in February 2023 to $26, is currently trading at $36,053. According to coinmarketcap data, BSV, which has a size of $694,182,297, has had a volume of $33,263,665 in the last twenty-four hours.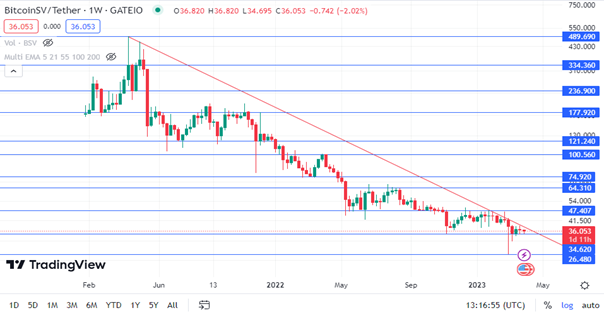 BSV Chart Analysis
BSV, which started to decline after seeing its historically high value of $ 489 in April 2021, seems unable to break the downtrend it entered. To stay above the $34.62 weekly support, BSV will first target the falling trendline of $38 as it stays above this support level. If it breaks the trend, I expect it to target $47,407, which it has been a while since it has been able to break. A break below the $34,620 support level may increase the selling pressure and cause us to see the $26 level again.
This article does not contain investment advice or recommendations. Every investment and trading move involves risk, and readers should conduct their research when deciding. This article does not include investment advice or suggestions. Every investment and trading move involves risk, and readers should perform their analysis when determining.
 It may get your attention: